To start, there is no "correct" asset allocation by age. But there is an optimal asset allocation I'd like to share in this post. Your asset allocation between stocks and bonds depends on your risk tolerance. Are you risk averse, moderate, or risk loving? I'm personally risk loving or risk averse, and nothing in between.
When I see "Neutral" ratings by research analysts, I want to slap them upside the head for having no conviction. Then the optimist in me thinks what a great world to have occupations that pay well for providing no opinion!
Your asset allocation also depends on the importance of your specific market portfolio. For example, most would probably treat their 401K or IRA as a vital part of their retirement strategy because it is or will become their largest portfolio.
Meanwhile, you can have another portfolio in an after-tax brokerage account that is much smaller where you punt stocks. If you blow up your online trading account account, you'll survive. If you demolish your 401K, you might need to delay retirement for years.
I ran my current 401K through Personal Capital to see what they thought about my aggressive asset allocation. To no surprise, the below chart is what they came back with.
I essentially have too much concentration risk in stocks and am underinvested in bonds based on the "conventional" asset allocation model for someone my age. To run the same analysis on Personal Capital, simply click the "Investment Checkup" link under the "Investing" tab.

I am going to provide you with five recommended asset allocation models to fit everyone's investment risk profile: Conventional, New Life, Survival, Nothing To Lose, and Financial Samurai. We will talk through each model to see whether it fits your present financial situation. Your asset allocation will switch over time of course.
Before we look into each asset allocation model, we must first look at the historical returns for stocks and bonds. The goal of the charts is to give you basis for how to think about returns from both asset classes.
Stocks have outperformed bonds in the long run as you will see. However, stocks are also much more volatile. Armed with historical knowledge, we can then make logical assumptions about the future.
Historical Return For Stocks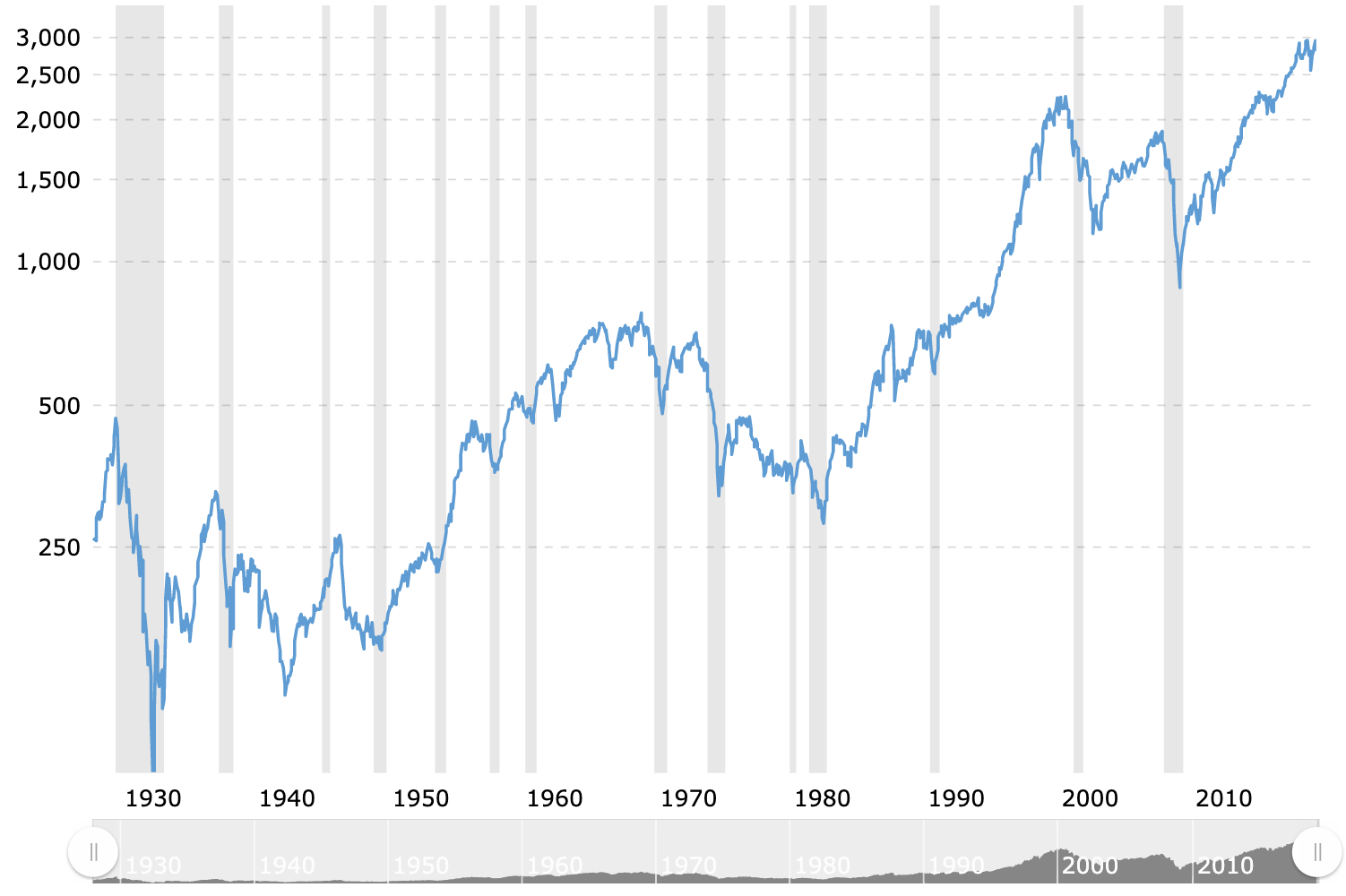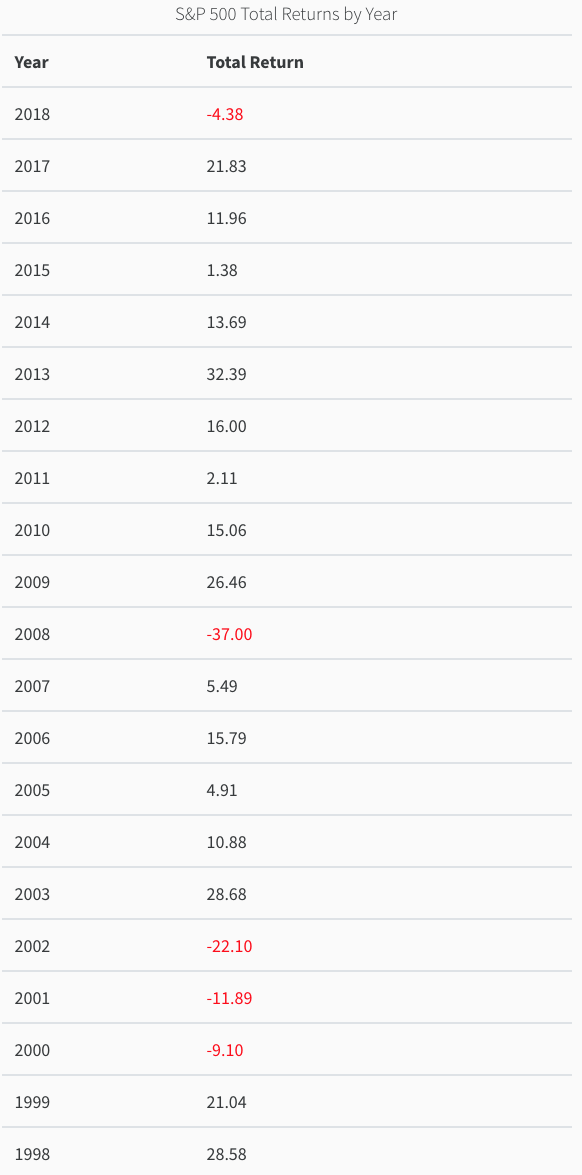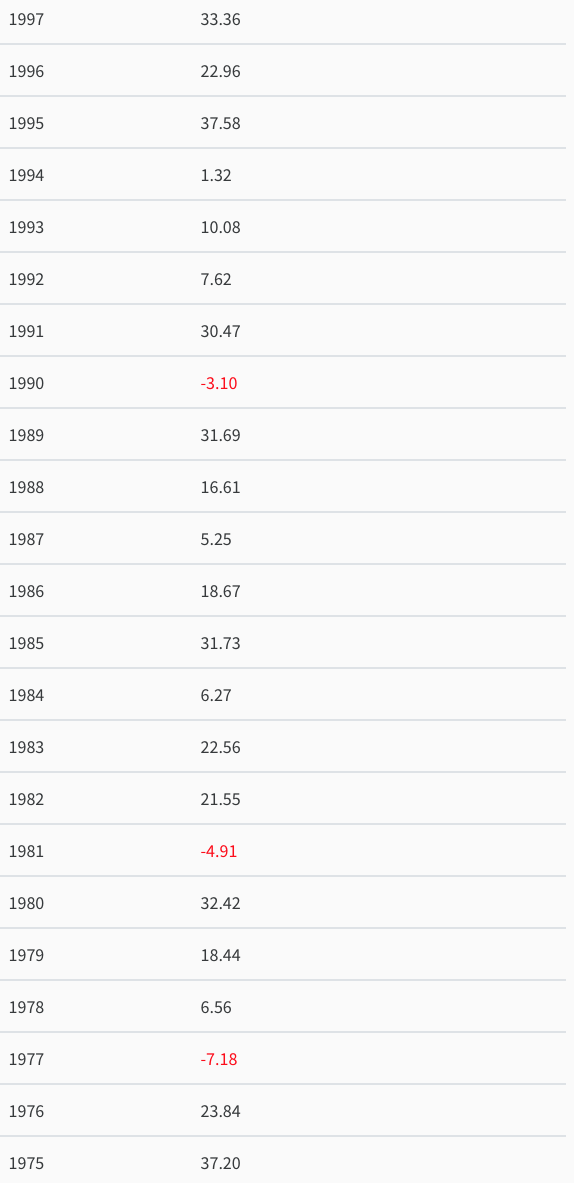 Notes
* The 10-year historical average return for the S&P 500 index is roughly 8%. The 60 year average is also roughly 7% after the most recent 38.5% drubbing in 2008. T
* The S&P 500 has been extraordinarily volatile over the past 20 years. The golden age was between 1995-1999. 2000-2002 saw three years of double digit declines followed by four years of gains until the economic crisis. In other words, there looks to be a 3-5 year run until performance reverses so watch out.
* 2017 was another banner year in the stock market, closing up almost 20%. 2018 was a difficult year with the S&P 500 down about 5%. 2019 has so far been a great year with both stocks and bonds rebounding handsomely.
Historical Return For Bonds
Bonds and interest rate performance is inversely correlated. Take a look at what the 10-year bond yield has been doing. Since July 1, 1981, the 10-year bond yield has essentially been going down thanks to technology, information efficiency, and globalization. As a result, the 10-year bond has performed well during this same time period.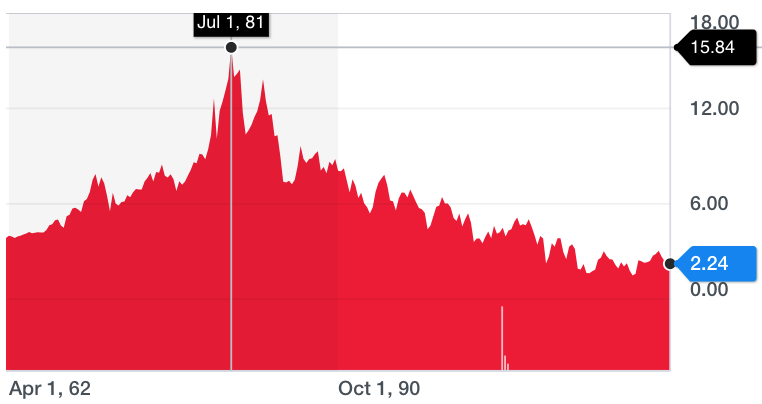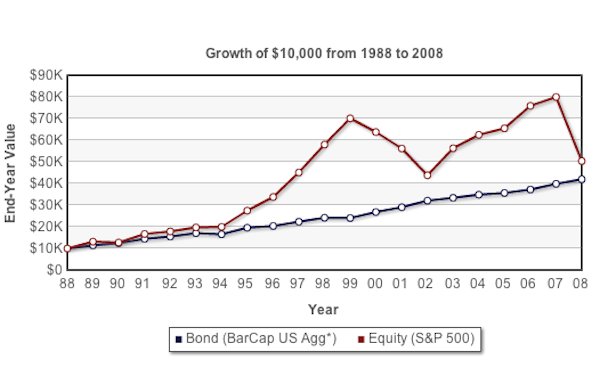 Notes
* The second chart shows how stocks have trounced bonds since 1994. Unfortunately the chart cuts off at 2008 where the crisis occurs because this chart is from a bond shop called BondGroup. Their goal is to sell bonds, not stocks.
* Bonds have never returned more than 20% in one year. The two times the BarCap US Aggregate index came close was in 1991 and in 1995 when inflation was in the high single digits. Inflation is now around 2% and is expected to go higher as the Trump administration spends and borrows heavily to jump start the economy between 2017-2021.
* The 10-year bond yield jumped to 2.85% in 1Q2018 due to higher inflation expectations, roiling the S&P 500 and Dow Jones by ~6% in one week.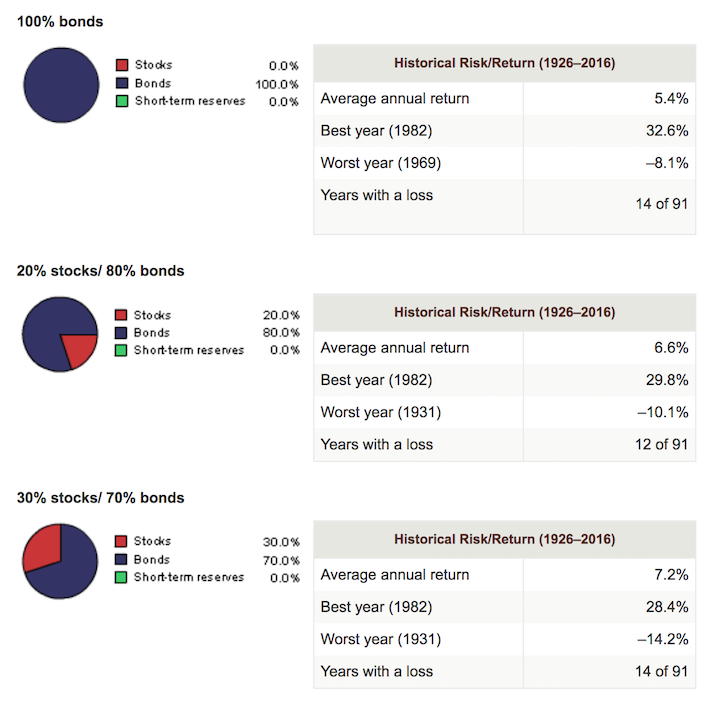 Bonds Can Outperform Bonds Too
Based on historical analysis, stocks tend to outperform bonds by about 3-5% a year. However, there are periods when bonds can outperform stocks.
Take a look at the performance of the Vanguard Long-Term Bond Index Fund (VBLTX) versus the S&P 500 ETF (SPY) since 1999. VBLTX has thoroughly outperformed SPY by an impressive 62%.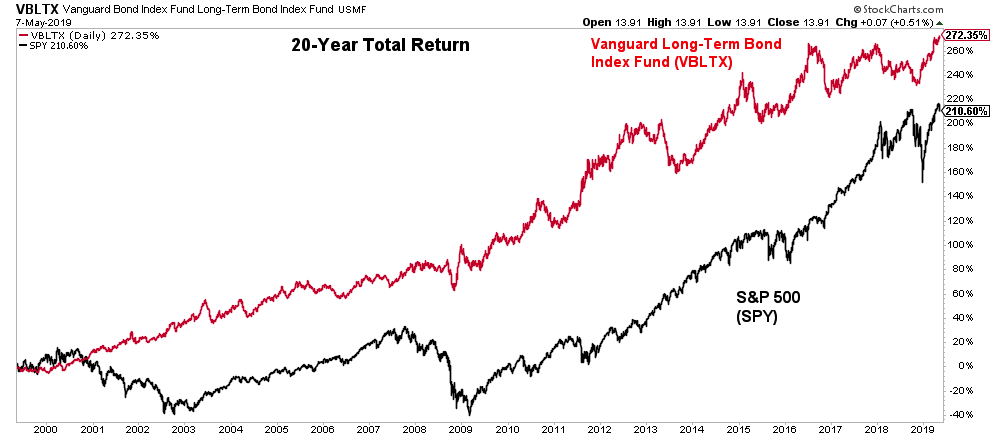 Now of course, not all bond funds are the same. Although VBLTX is considered a reasonable proxy for bonds, other bond funds may not perform as well.
Here is another chart showing the performance of the VBMFX, another Vanguard bond ETF versus VTSMX, a Vanguard S&P 500 ETF. In this scenario, bonds outperformed the stock market from 2001 to about 2013, or 12 years. Since 2013, stocks have outperformed.
In other words, bonds outperformed stocks about a 2:1 ratio during this 20-year time period.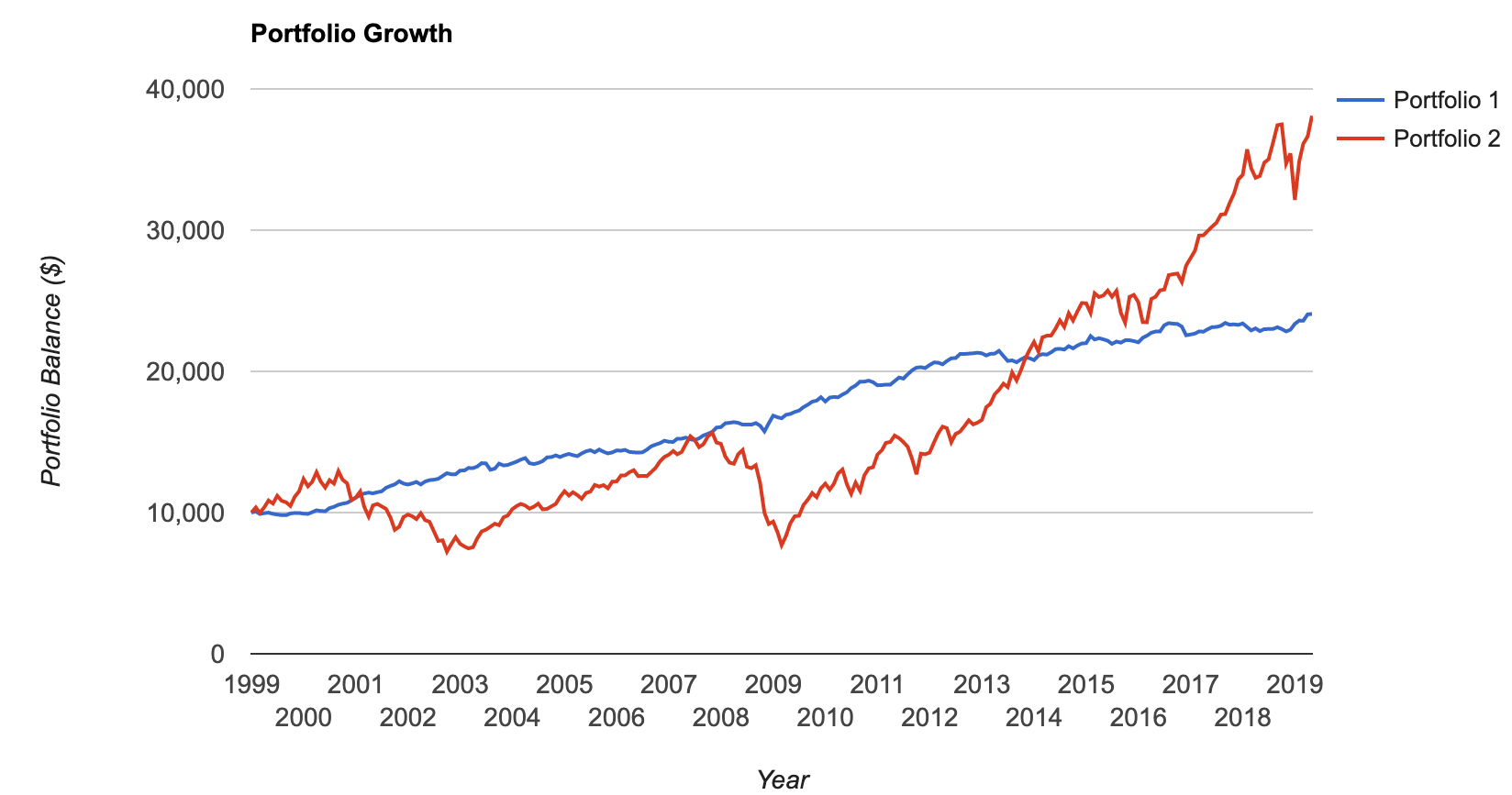 Bonds don't get as much love as stocks because they are considered boring. It's hard to get rich quick off a bond. But it is possible to see a quick windfall if you pick the right high-flying stock.
Despite the lack of sexiness in bonds, if you're serious about achieving financial independence or are already financially independent, bonds are an integral part of your portfolio.
Conventional Asset Allocation Model For Stocks And Bonds
The classic recommendation for asset allocation is to subtract your age from 100 to find out how much you should allocate towards stocks. The basic premise is that we become risk averse as we age given we have less of an ability to generate income. We also don't want to spend our older years working. We are willing to trade lower returns for higher certainty. The following chart demonstrates the conventional asset allocation by age.
Candidates:
* You believe in conventional wisdom and don't want to overcomplicate things.
* You expect to live to the median age of 78 for men and 82 for women.
* You are not very interested in the stock market, bond market, or economics and would rather have someone manage your money instead.

New Life Asset Allocation Model For Stocks And Bonds
The New Life asset allocation recommendation is to subtract your age by 120 to figure out how much of your portfolio should be allocated towards stocks. Studies show we are living longer due to advancements in science and better awareness about how we should eat.
Given stocks have shown to outperform bonds over the long run, we need a greater allocation towards stocks to take care of our longer lives. Our risk tolerance still decreases as we get older, just at a later stage.
Candidates:
* You plan to live longer than the median age of 79 for men and 82 for women.
* You're not that interested in actively managing your own money, but depend on your portfolio to live a comfortable retirement.
* You plan to work until the conventional retirement age of 65, plus or minus 5 years.
* You are a health fanatic who works out regularly and eats in a healthy manner. Sugar is synonymous with poison, while raw is synonymous with utopia.

Survival Asset Allocation Model For Stocks And Bonds
The Survival Asset Allocation model is for those who are risk averse. The 50/50 asset allocation increases the chances your overall portfolio will outperform during a stock market collapse because your bonds will be increasing in value as investors flee towards safety.
Bonds can also rise when stocks rise as you've seen in the historical chart above. During the 2008 Global Financial Crisis, a bond index fund only fell by about 1.5%, while stocks declined by 38%. The worst year ever for bonds was in 1994 when bonds fell 2.9%.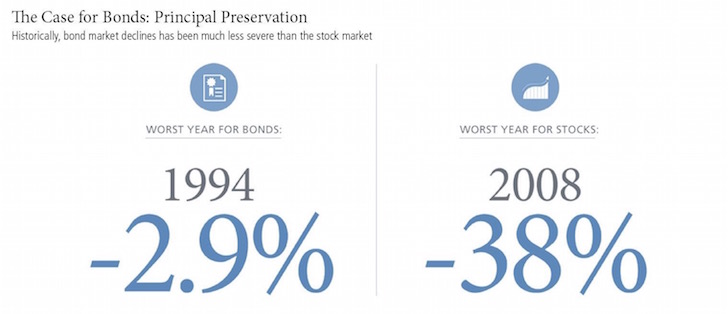 Candidates:
* You believe the stock market has a higher chance of underperforming bonds, but are not sure given historical data points to the contrary.
* You are within 10 years of full retirement and do not want to risk losing your nest egg.
* You depend on your portfolio to be there for you in retirement due to a lack of alternative income streams.
* You are very wary of the stock market because of all the volatility, scams, and downturns.
* You are an entrepreneur who needs some financial safety just in case your business goes bust.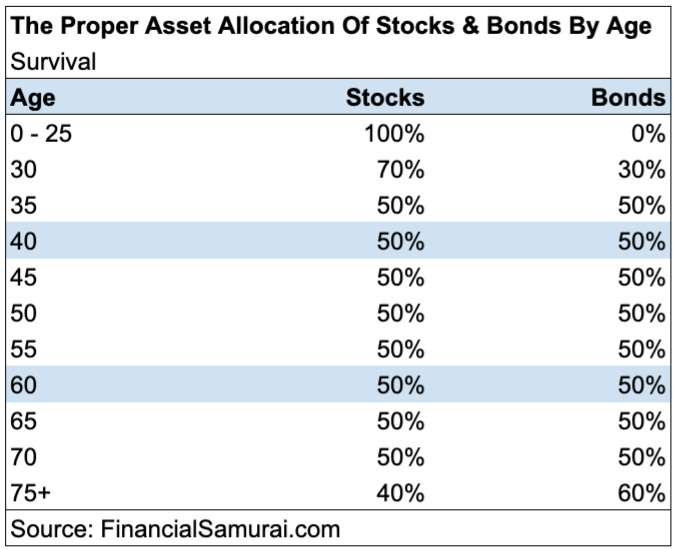 Nothing-To-Lose Asset Allocation Model Of Stocks And Bonds
Given stocks have shown to outperform bonds over the past 60 years, the Nothing To Lose Asset Allocation model is for those who want to go all-in on stocks. If you have a long enough time horizon, this strategy might suite you well.
Candidates:
* You are rich and don't count on your stock portfolio to survive now or in retirement.
* You are poor and are willing to risk it all because you don't have much to risk.
* You have tremendous earnings power that will continue to go up for decades.
* You are young or have an investment horizon of at least 20 more years.
* You believe you are smarter than the market and can therefore choose sectors and stocks which will consistently outperform.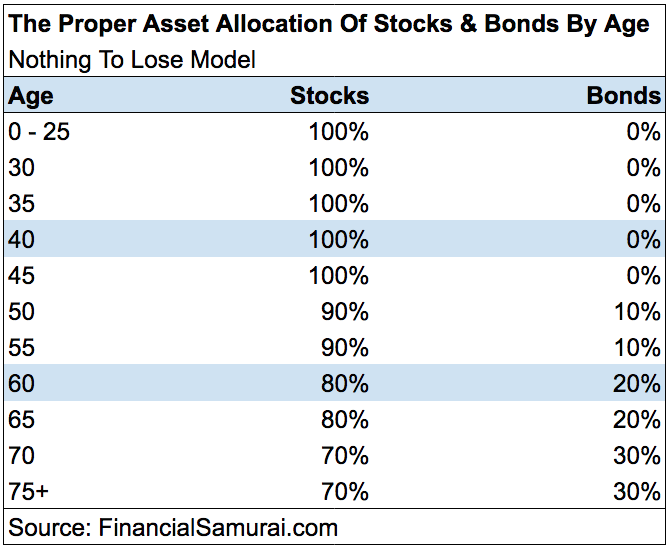 Financial Samurai Asset Allocation Model Of Stocks And Bonds
The Financial Samurai model is a hybrid between the Nothing To Lose model and the New Life model. I believe stocks will outperform bonds over the long run, but we'll see continued volatility over our lifetimes. Specifically, I'm preparing for a new normal of 5 to 7% returns for stocks (from 8-10% historically) and -5 to 4% return on bonds from 4-7% historically. In other words, I believe bonds are expensive and have a higher risk of staying flat or losing money for investors who do not hold to maturity.
Candidates:
* You have multiple income streams.
* You are a personal finance enthusiast who gets a kick out of reading finance literature and managing your money.
* You are not dependent on your portfolio in retirement, but would like it to be there as a nice bonus.
* You enjoy studying macroeconomic policy to understand how it may affect your finances.
* You are an early retiree who won't be contributing as much to their portfolios as before.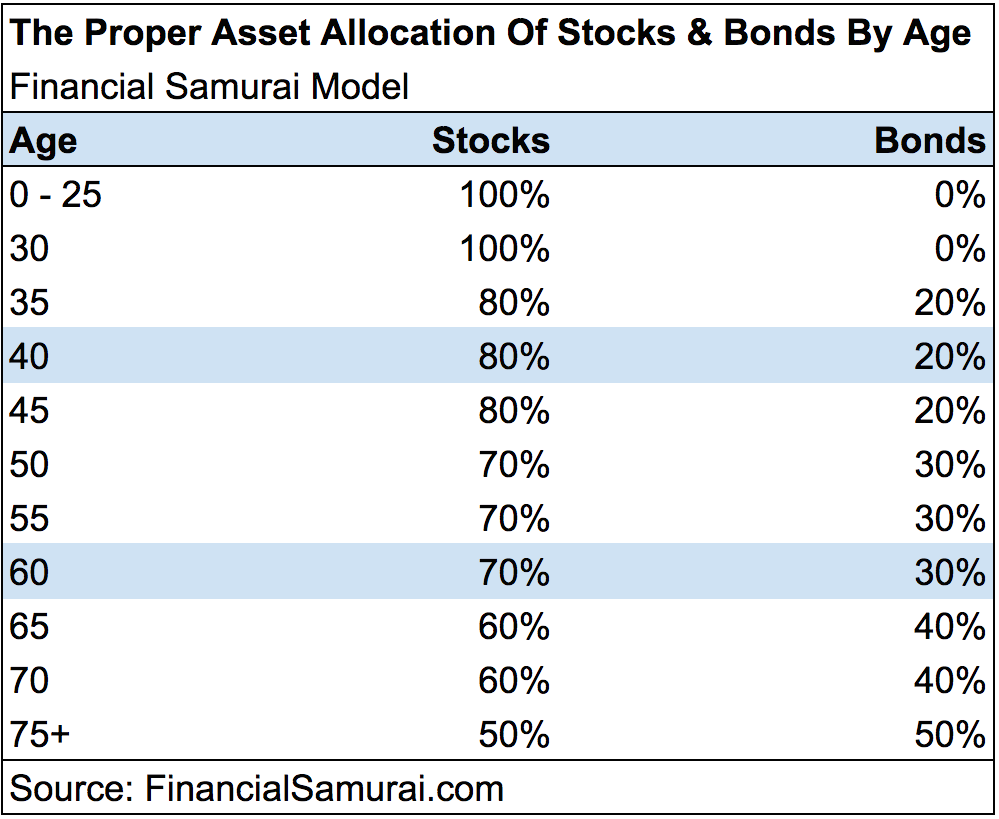 The Right Asset Allocation Depends On Your Risk-Tolerance
By providing five different asset allocation models, I hope you are able to identify one that fits your needs and risk tolerance. Don't let anybody force you into an uncomfortable situation.
Ideally, your asset allocation should let you sleep well at night and wake up every morning with vigor. When it comes to investing, you need to calculate your existing investment exposurere and invest accordingly.
I encourage everyone to take a proactive approach to their retirement portfolios. Ask yourself the following questions to determine which asset allocation model is right for you:
* What is my risk tolerance on a scale of 0-10?
* If my portfolio dropped 50% in one year, will I be financially OK?
* How stable is my primary income source?
* How many income streams do I have?
* Do I have an X Factor?
* What is my Money Strength?
* What is my knowledge about stocks and bonds?
* How long is my investment horizon?
* Where do I get my investment advice and what is the quality of such advice?
Once you've answered these questions, sit down with a loved one to discuss whether there is congruency with your answers and how you are currently investing. Just because we've been in a bull run since 2009 doesn't mean you're now an investment guru. It's important not to overestimate your abilities when it comes to investing. We all lose money eventually, it's just a matter of when and how much. Let's just hope the party continues!
Recommendation To Build Wealth
Track Your Finances: The best ways to build wealth is to get a handle on your finances by signing up with Personal Capital. They are a free online platform which aggregates all your financial accounts on their Dashboard so you can see where you can optimize. Before Personal Capital, I had to log into eight different systems to track 28 different accounts (brokerage, multiple banks, 401K, etc) to track my finances. Now, I can just log into Personal Capital to see how my stock accounts are doing, how my net worth is progressing, and where my spending is going.
One of their best tools is the 401K Fee Analyzer which has helped me save over $1,700 in annual portfolio fees I had no idea I was paying. You just click on the Investment Tab and run your portfolio through their fee analyzer with one click of the button. Their Investment Checkup tool is also great because it graphically shows whether your investment portfolios are property allocated based on your risk profile. Aggregate all your financial accounts in order to get a good over view of your net worth and start building those passive income streams! It only takes a minute to sign up.
About the Author: Sam worked in investing banking for 13 years at GS and CS. He received his undergraduate degree in Economics from The College of William & Mary and got his MBA from UC Berkeley. In 2012, Sam was able to retire at the age of 34 largely due to his investments that now generate roughly $250,000 a year in passive income, most recently helped by real estate crowdfunding. He spends most of his time playing tennis and taking care of his family. Financial Samurai was started in 2009 and is one of the most trusted personal finance sites on the web with over 1.5 million pageviews a month.
Updated for 2020 and beyond.