You know what's better than successfully refinancing your mortgage at a lower rate? Getting a free loan modification at a lower rate without all the paperwork, hassle and fees.
A loan modification is when the bank contacts you and basically says, "Hey good looking! Do you want some free money? If so, you're in luck!"
My loan modification opportunity came out of the blue right around Christmas time. Bank of America sent me a FedEX envelope with a single sheet of paper that read, "This offer is exclusively available to you through Bank of America, for a limited time only." I honestly thought the letter was junk mail until I looked a little closer to see all my account details included.
For the past two years, I've been pinging Bank of America to see if they would lower my vacation property mortgage from what's now considered a sky high 5.875% 30-year fixed rate to something lower.
I've refinanced my other mortgages multiple times, but this was the stubborn one. The condotel mortgage secondary market dried up after the crisis, therefore refinancing at a lower rate became impossible. We should all refinance as many times as it takes to save money.
If you are not aware, most banks sell their loans to the secondary market (mortgage backed securities) as a way to hedge out risk and capitalize on profits. The secondary mortgage market actually helps the end consumer by allowing banks to lend more at lower rates. Unfortunately, once a bank run comes, it takes a while for the secondary market to thaw.
Since Bank of America wasn't able to sell my loan in the secondary market, they figured why do anything to lower my rate given that's what we agreed upon. I hadn't missed a payment, so as far as they were concerned I was a good customer. BoA had the capability to lower my rate, but they didn't have the willingness. Fair enough.
So how did I successfully manage to reduce my 30-year fixed mortgage from 5.875% down to 4.25% for free and within two weeks to boot? What's more, this is my second free loan modification. The first one happened five years ago with Citibank when they decided to lower my then 5/1 ARM 3.625% rate down to 3.125%. Let me explain how to win the mortgage lottery.
HOW TO GET A LOAN MODIFICATION
1) Pay your mortgage on time. The big banks have different types of rate/loan modification programs. One constant criteria I've found for getting a rate mod is the borrower's stellar repayment history. Once you show a record of consistent payment, banks will be more inclined to offer you concessions.
Citibank decided to knock 0.5% off my rate back in 2007 just because I was a good client. Now Bank of America decided to cut a whopping 1.625% off my vacation property mortgage partly because I never missed a payment. If I showed a history of being late, I'm pretty certain neither bank would have given me a rate mod.
For about a year, I was thinking of just not paying in protest of Bank of America's inability to lower my rate. After all, California is one of many non-recourse states who do not go after your other assets if you welch on your mortgage obligation.
Given my vacation property provides a healthy amount of income and the fact that I cherish my credit score, I decided to keep on paying. Under my breathe, I was envious of everyone who got free bailouts for not paying their debt.
2) Gather your financial information. You need to have your financial ducks in order to show that you are financially responsible. Below are six things Bank of America asked me to provide for their underwriter to review.
In order to make sure the process goes as smoothly as possible, don't forget to sign and date all documents. Furthermore, make digital copies of your records so that you can e-mail them over to your loan mod processor. One of the most common excuses banks have had for delaying any type of loan mod or refinance is losing your documents. It sounds ridiculous, but it's true.
1) 4506T form signed and dated.
2) 2011 tax return including all pages. Second page of your tax return must be signed and dated.
3) Last two consecutive current paystubs. Must reflect year to date earnings.
4) If self-employed, have S Corp or Partnership send profit and loss statement for the fiscal year. Profit and loss statement must be signed, dated and include company's name.
5) K1. ( if applicable)
6) If you own any other properties and second mortgages please fill out REO attachment as well. Make sure to include every property, even if properties were paid off.
Note: I suggest NOT providing more financial information than is required. It will only complicate things. Only if they ask for more assets or more income to get you under a certain debt to income ratio should you send more information. In my case, Bank of America wanted to make sure my debt to income ratio was under 42%. 42% is an easy hurdle to overcome.
3) Get confirmation of receipt. Once you have sent all the requested documents, follow up with an e-mail and phone call to make sure the processor received all your paperwork. You are almost always running on a deadline. Your processor is only the intermediary between you and the bank's mortgage underwriting.
It's the underwriter who goes through all your financials to make a feasibility study as to whether you qualify. Therefore, help your processor help you by making sure they have everything they need to prevent delay.
4) Sign the new agreement. After getting a phone call or e-mail saying your rate modification is approved, you should then expect new loan documents in the mail. Once you receive the loan documents, you should receive another e-mail or phone call from a notary who will witness your signing of the new agreement. If you do not hear from your notary within two days of receiving your document, call/email your processor to get them to press.
5) Change your mortgage payment amount. Goodbye old mortgage payment and hello lower mortgage payment! Make sure you change your autopay/transfer amount to reflect the new mortgage amount. The mortgage account number should be the same, but double check anyway. Remember, mortgage interest is paid in arrears. In other words, your May 1 mortgage payment is paying for April interest.
HOW TO PROACTIVELY GET A LOAN MODIFICATION
In April of 2012, a federal judge approved the $26 billion settlement deal reached between the nation's five largest mortgage lenders and the attorneys general of 49 states and the District of Columbia over foreclosure processing abuses. Bank of America also announced on January 7, 2013 they agreed to a $11.7 billion to resolve disputes with Fannie Mae. If your mortgage is with Bank of America, JP Morgan Chase, Wells Fargo, SunTrust, U.S. Bank, PNC, MetLife Bank or Ally Bank, you could be in luck!
The approval clears the way for the banks to compensate homeowners who may have been impacted by the so-called robo-signing scandal, in which bank employees signed hundreds of documents a day attesting to facts that they had little or no knowledge of. Furthermore, part of the settlement should go towards those who have been wrongfully foreclosed. $17 of the $26 billion settlement is to go towards loan modifications. Such modifications include principal reductions of as much as $100,000 for roughly one million homeowners who are underwater or behind on their payments! Another $3 billion or more will go toward refinancing mortgages for borrowers who are current on their payments. The other $5-6 billion is for fines.
Is it a coincidence that Bank of America was highlighted in the press last summer as the slowest bank of those who settled in terms of providing rate modifications for its clients? Probably not. The US Department Of Justice is forcing Bank of America to hurry up and help their mortgage clients or else face more fines. This is why we need to pay attention to the news. I wasn't proactive in calling BoA because I was lazy, didn't put two-and-two together, and also felt like there was no hope. Well there is hope.
Proactive Steps To Take For A Loan Mod
1) Call your bank's mortgage / loan modification department. It doesn't matter if your bank is one of main four banks which settled in the $26 billion dollar suit. No big bank is safe from the government. Find out what type of rate or loan modification programs they have for you. Hopefully you've been a reliable borrower.
2) Ask your bank whether they still own your loan. If your bank does not own your loan, they cannot modify your loan unfortunately. It's like me inviting my friends over to stay at your house. Not going to fly.
3) Inform the loan mod department of hardship. A lot of people have lost their jobs, seen a pay cut, or seen their spouse's pay get cut over the past five years. If your bank owns your loan, they would much rather have you continue to pay a lower payment rather than no payment. Since interest rates have come down, your higher-than-market mortgage is providing outsized returns as the spread between the bank's borrowing cost has widened. Even if the bank lowers your rate, they are probably still making the same, if not higher spread than when they first made the loan, so don't think your bank is losing money. They just aren't making as much money off you.
4) Assemble your financial documents. Besides your last two pay stubs, latest W2, K-1s, company financials, and investment assets, you should have a detailed budget of all income an expenses as well just in case they ask. Your goal is to demonstrate your ability to pay, and also show your debt load is manageable as a percent of income. If you've shown your ability to pay on time your higher mortgage payment, you should certainly be able to continue to pay on time a lower payment.
5) Be relentless. The federal government is seeing the fruits of its crackdown efforts with the latest $26 billion dollar settlement. No bank is safe, especially the big banks. As a result, I encourage you to be relentless in calling the loan modification department at least once a quarter to see if they have any new programs. If the bank owns your mortgage, they have the ability to lower your rate. If they do not own your mortgage, you may still be eligible for some type of decrease if the alternative is non-payment.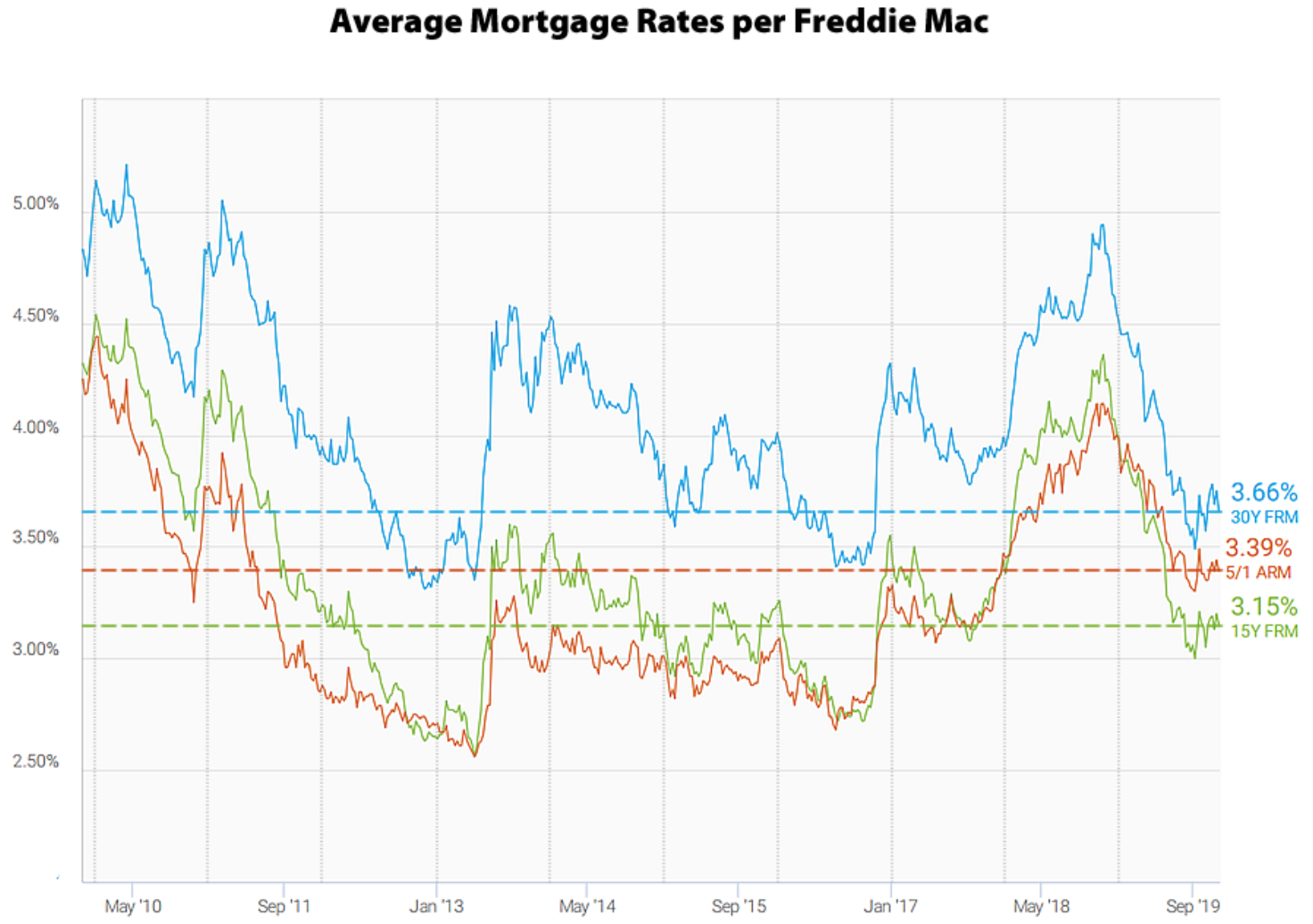 BEING RESPONSIBLE SOMETIMES PAYS OFF
For years, I've wondered when I was going to get me some bail out money. After all, I payed plenty of taxes without seeing much return. Just when I thought our system was broken with so much moral hazard, in came the US Department Of Justice. At last, relief is slowly trickling down to those who were responsible for meeting their debt obligations.
My anecdotal example makes me bullish about the housing sector over the next several years. As the housing sector recovers, so does the economy and the labor market. The money I save gets partially pumped back into the economy through discretionary spending. I've been a cynic towards the mortgage industry and the US Government's effectiveness in helping the people until now. Things are improving. It's just taking a darn long time.
Good luck everyone! If you can't get a loan mod, the next best thing is to check the latest mortgage rates and refinance. The 10-year yield has ticked up from around 1.8% at the end of 2012 to currently 2%. I don't expect rates to move much higher, but if there is a rush to refinance banks may become even more stringent and raise rates even further given an overflow of demand. One thing to note is that if I was able to refinance my BoA mortgage, I'd probably be able to get the rate down to 3.75% instead of 4.25%. But hey, something is better than nothing!
Wealth Building Recommendations
Shop around for a mortgage: Check the latest mortgage rates online through Credible. They've got one of the largest networks of lenders that compete for your business. On Credible, you can get multiple real quotes all in one place. Your goal should be to get as many written offers as possible and then use the offers as leverage to get the lowest interest rate possible from them or your existing bank. When banks compete, you win.
Explore real estate crowdsourcing opportunities: If you don't have the downpayment to buy a property, don't want to deal with the hassle of managing real estate, or don't want to tie up your liquidity in physical real estate, take a look at Fundrise, one of the largest real estate crowdsourcing companies today.
Real estate is a key component of a diversified portfolio. Real estate crowdsourcing allows you to be more flexible in your real estate investments by investing beyond just where you live for the best returns possible. For example, cap rates are around 3% in San Francisco and New York City, but over 10% in the Midwest if you're looking for strictly investing income returns.
Sign up and take a look at all the residential and commercial investment opportunities around the country Fundrise has to offer. It's free to look.
Updated for 2020 and beyond.