With real estate firmly in the forefront of investor's minds now that stock market volatility is back, I thought it would be good to look at the best cities to buy real estate in America. Real estate continues to be my favorite asset class to build wealth due to its stability and income.
I already spent a ton of time analyzing the most attractive states to buy real estate based on migration trends and valuations. Now all I've got to do is identify the top cities from the top states.
Cities like San Francisco, New York City, Seattle, LA, and Washington DC are getting quite crowded. Prices are high and people are getting fed up with the constant traffic.
Thanks to technology, there's no reason why employees have to always come to the office anymore. They can work remotely. The coronavirus pandemic may also accelerate the remote trend and the desire to work in a less densely populated area.
As a family man now, I'd personally love more space and safer streets for my kids. But to buy a 10,000 square foot lot in San Francisco would probably cost me over $20 million if one were ever available!
The Best Cities To Buy Real Estate
To figure out the best cities to buy real estate, let us first review the top states to buy real estate in the new decade by migration and valuation. I've ranked them based on the combined rankings of the two variables. South Carolina comes out first, followed by Vermont, South Dakota, Tennessee, etc.
You may disagree with my ranking methodology, which is fine. This is why we have a market. However, let's now cross reference the most attractive states with the most attractive cities to buy real estate provided by the Urban Land Institute (ULI), a commercial real estate institution.
CrowdStreet, my favorite real estate marketplace for accredited investors, pointed me to ULI after I discussed with their team my goal to identify cities with the most investment potential. The full ULI report, including their top real estate prospects for 2020 and beyond is available here.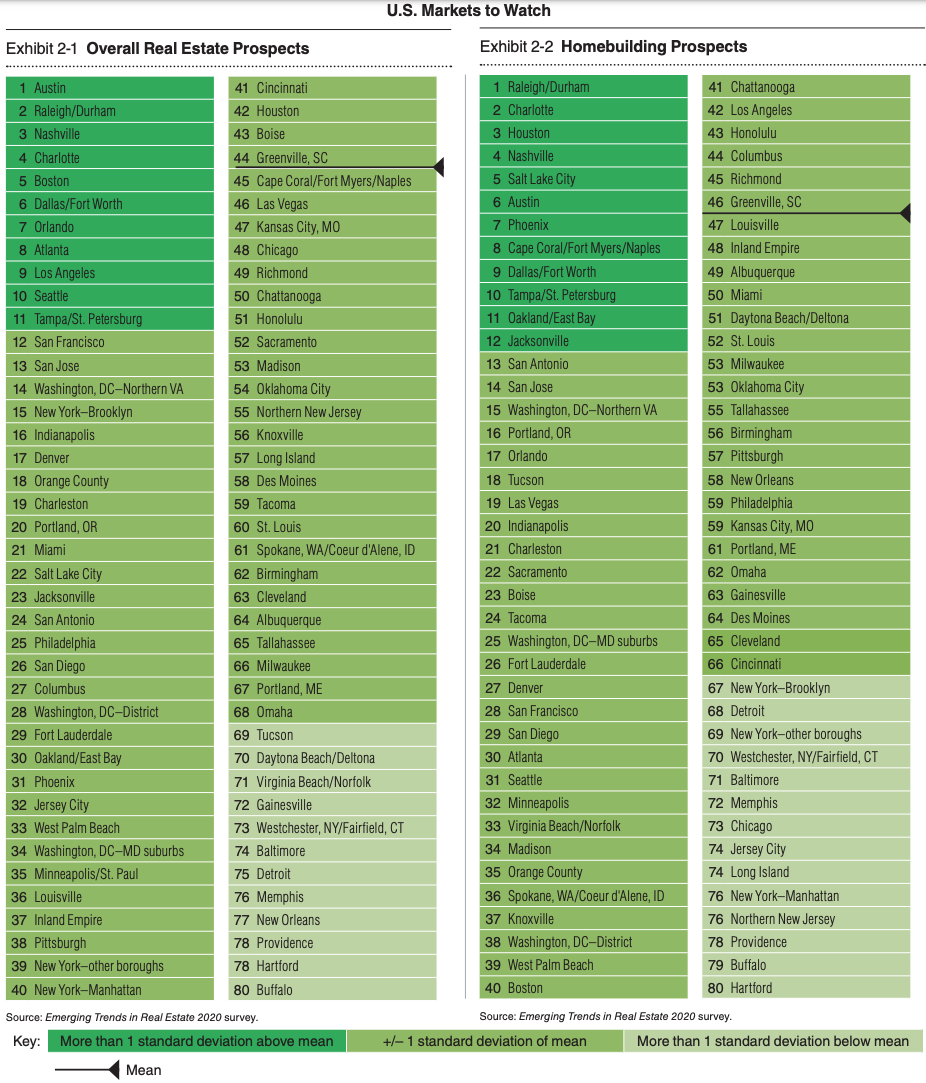 You'll notice from the chart that 8 of the top 10 markets for overall real estate prospects are secondary metros (aka 18-hour cities). 8 of the top 10 markets also hail from my top 15 best states to buy real estate. The only two cities in ULI's top 10 that are not considered 18-hour cities and are not in my Top 15 states are Boston and Los Angeles.
Therefore, I think we can agree that both sets of analysis makes sense.
Reviewing ULI's Top 5 Cities
Austin #1 (ULI rank) / Texas #7 (FS state rank)
Austin seems like everyone's favorite city for real estate investing nowadays and for good reason. Its slogan is "Keep Austin Weird," which sounds eerily similar to how things are in San Francisco. Austin has a deep talent pool, a unique and high quality lifestyle, no state income taxes, reasonably priced real estate, and a strong commitment to business and real estate expansion.
On the downside, traffic is an ongoing issue and housing affordability pressures are rising. Austin has the highest projected population growth rate for the coming five years among the 80 markets ULI has analyzed.
Development is booming and the landscape studded with impactful
projects: Apple is building a $1 billion North Austin campus; a multi-developer transit-oriented development is underway near downtown on Lady Bird Lake; the new Dell Medical School recently opened at the University of Texas; a major airport expansion is underway; and Google is also aggressively expanding in town.
Raleigh/Durham #2 (ULI rank) / North Carolina #8 (FS state rank)
Raleigh/Durham, ranked number two overall, has been seeing impressive investment in its suburban office and multifamily sectors.
This market's concentration of educational institutions—Duke University, the University of North Carolina, North Carolina State University, and several smaller colleges has made the area a center for intellectual capital.
Further, there is Research Triangle Park, which is being branded as a technology mecca with more than 89,000 tech jobs. With tech jobs accounting for 10.9 percent of the employment base, the Raleigh/Durham area ranks third behind Silicon Valley and San Francisco in tech industry share, according to a recent Tech Cities report.
Nashville #3 (ULI rank), Tennessee #4 (FS state rank)
Tennessee is my #4 best state to buy real estate and Nashville is the top city prospect. The local mood is ebullient, with expectations strong for continued investment and development.
On the corporation front, Nashville has Alliance Bernstein's headquarters, an Amazon operations center, and the expansion of dental products firm Smile Direct Club. There are some 8,000 new jobs linked to these firms.
Charlotte #4 (ULI rank), North Carolina #8 (FS state rank)
Charlotte moved up from ninth to fourth in ULI's survey as the city is attracting technology and manufacturing firms.
Charlotte, North Carolina has been a banking sector hub for over 20 years given it is the headquarters of Bank of America.
Charlotte (with just 0.8 percent of the U.S. population) attracted 1.2 percent of the nation's real estate investment in the three-year period from 2016 through 2018 and stepped up to a 1.5 percent share during the first half of 2019.
Orlando #5 (ULI rank), Florida #9 (FS state rank)
Orlando captured 1.3 percent of the 2016–2018 national investment volume, holding steady at a 1.2 percent share in early 2019, and, like Charlotte, well-exceeded its 0.8 percent share of the U.S. population.
ULI's survey highlighted Orlando as seventh in overall real estate prospects, ninth in development/redevelopment opportunities, and 17th in both homebuilding prospects and local expectations of investor demand in 2020.
Unsurprisingly, given its projected population increase of 71,000 over the
next five years, this market is overwhelmingly rated a multifamily "buy" in ULI's survey, with offices also seen as a "buy" by 50 percent of our respondents. Local experts anticipate that the expansion of the rail link from Miami—now under construction—will boost already robust tourism flows.
Finally, who doesn't love no state income tax?
CrowdStreet's Cities Of Interest
Given CrowdStreet is primarily focused on investing in 18-hour cities, they've also come up with four cities they see as interesting opportunities for real estate investing.
Milwaukee, Wisconsin
* $131,000 median home price, #66 ULI rank
One of the largest real estate projects of 2018 was the $524 million Wisconsin Entertainment and Sports Center, home of the Milwaukee Bucks NBA team. The Bucks are one of the four favorites to win the NBA championship in 2020. If they don't, Giannis Antetokounmpo is probably going to leave in 2021 and join my Golden State Warriors for maximum money.
A new modern streetcar, known as The Hop, will soon run downtown within a quarter-mile of the most densely occupied office towers, including the headquarters of Northwestern Mutual, who recently invested $450 million into their downtown space.
Milwaukee also has a lower cost of doing business, especially in comparison to its neighboring 24-hour city, Chicago, which has some of the highest taxes in the country. Several companies have already made the journey north from Chicago to Milwaukee, including Gold Standard Banking (bringing 300 jobs), Vonco Products, and Colbert Packaging.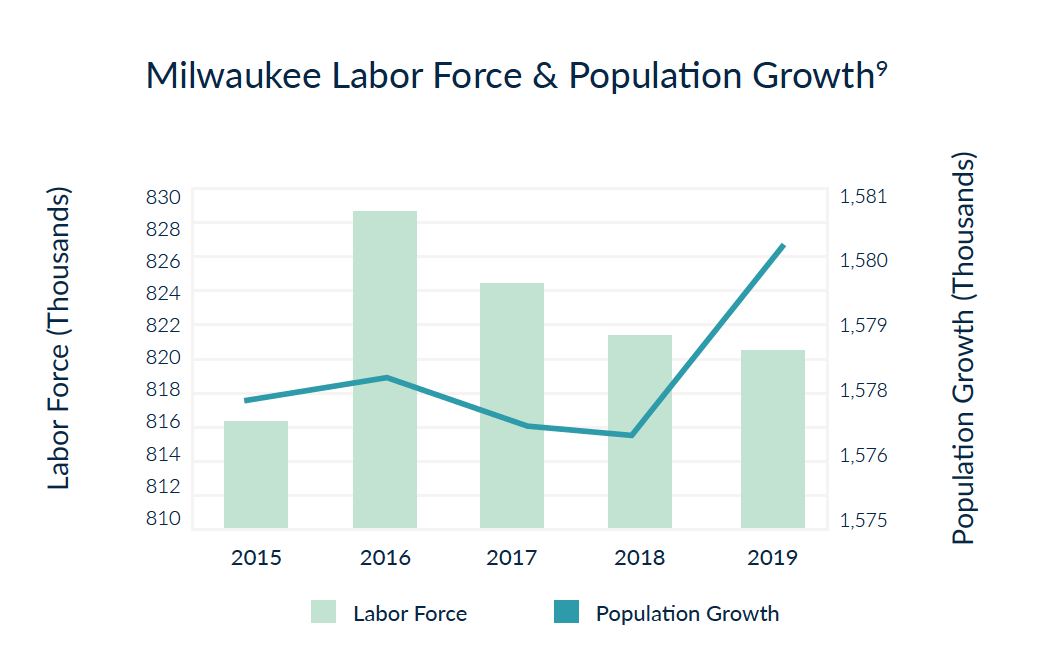 Milwaukee's manufacturing employment comprises 14.3% of the labor force, nearly double the national average. As automation continues to improve, the city's exposure to manufacturing jobs could negatively affect employment. However, based on current population growth, Milwaukee looks solid.
Columbus, Ohio
* $171,000 median home price, #26 ULI rank
Columbus was the most commonly asked about city by people who read my Top States To Invest In Real Estate For The New Decade. Due to positive net migration, specifically college-educated millennials moving to downtown Columbus, Columbus' population continues to grow handsomely.
Due to the millennial migration, Columbus has a higher than average population of prime workers (employees ages 25-44). As the labor market is extremely tight with unemployment below 3.0%, the influx of quality workers is welcomed.
Unlike other midwest cities, Columbus doesn't have a large exposure to manufacturing, shielding it from potential job loss due to automation. Alternatively, a large portion of the labor force, 16% of overall employment, is employed by the state government, providing a sturdy backbone and less office rent volatility.
Sector diversity within an economy provides insulation against economic volatility. Other expanding sectors in Columbus include education, healthcare, professional services, and hospitality.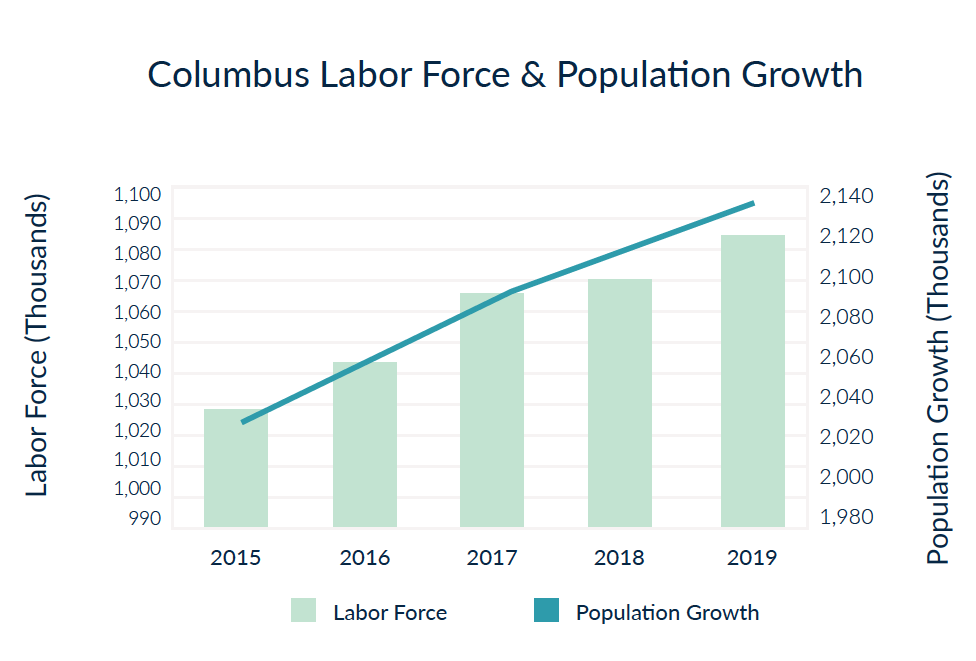 Approximately 7,800 multifamily units are currently under construction, with a majority of projects within the downtown core. Despite the boom in construction, multifamily vacancy remains near record lows at 6.1%. Net absorption (the amount of space that was occupied) was positive as over 3,000 apartments were occupied from June 2018 – June 2019, rounding out the extremely healthy fundamentals.
Columbus has also had a push of development in the past two years. Over 2.5 million square feet (MSF) of office space delivered, more than the previous ten years combined.
Charleston, South Carolina
* $331,000 median home price, #19 ULI rank
When I first interviewed CrowdStreet about their favorite 18-hour cities, they chose Charleston as #1 due to its downtown vibrancy, and population and job growth. Based on my top states analysis, South Carolina is also my #1 ranked state to buy real state.
Sales volume hit a record high in 2018 as 200 office buildings traded for a total of $330 MM, beating a record year in 2017. When the final numbers are tabulated, sales volume in 2019 will have likely continued its upward trajectory.
Employers such as Boeing and Mercedes-Benz have flocked to Charleston, among many others. Volvo recently expanded into a $1.1B factory that will hire an additional 4,000 employees. As a father of two now, I sure like the new Volvo XC90 SUV.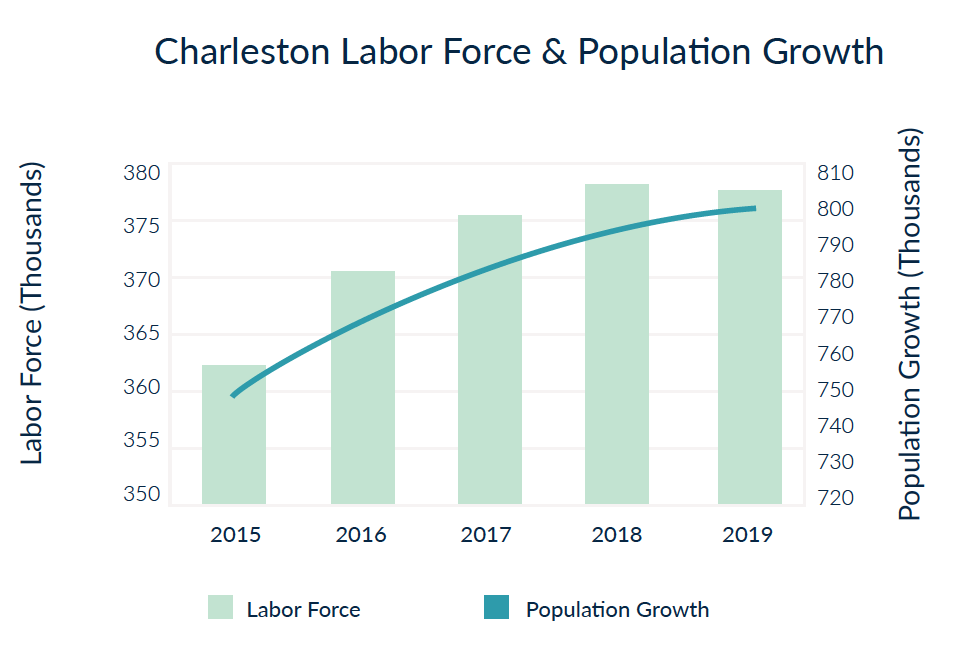 The Port of Charleston has also been a driving force in expanding job growth, specifically manufacturing jobs. The Port's deepening of the Charleston Harbor will accommodate increased container volume.
Kansas City, Missouri
* $159,000 median home price, #47 ULI rank,
What's not to like about Kansas City except that they beat my 49ers in the 2020 Super Bowl.
A surge in downtown activity is driven by higher than average population growth, steadily growing since 2015 in large part due to a lower cost of living and the growth of jobs.
Kansas City's unemployment rate of 3.1% is lower than the national unemployment rate of 3.6%. None other than Warren Buffet announced that GEICO selected Lenexa, a submarket of Kansas City, as its next service center.
Kansas City offered an economic incentive package to the insurance company in exchange for GEICO adding 500 entry-level jobs to the economy. Incentivizing large corporations like GEICO to move into the market will continue to grow Kansas City's employment growth.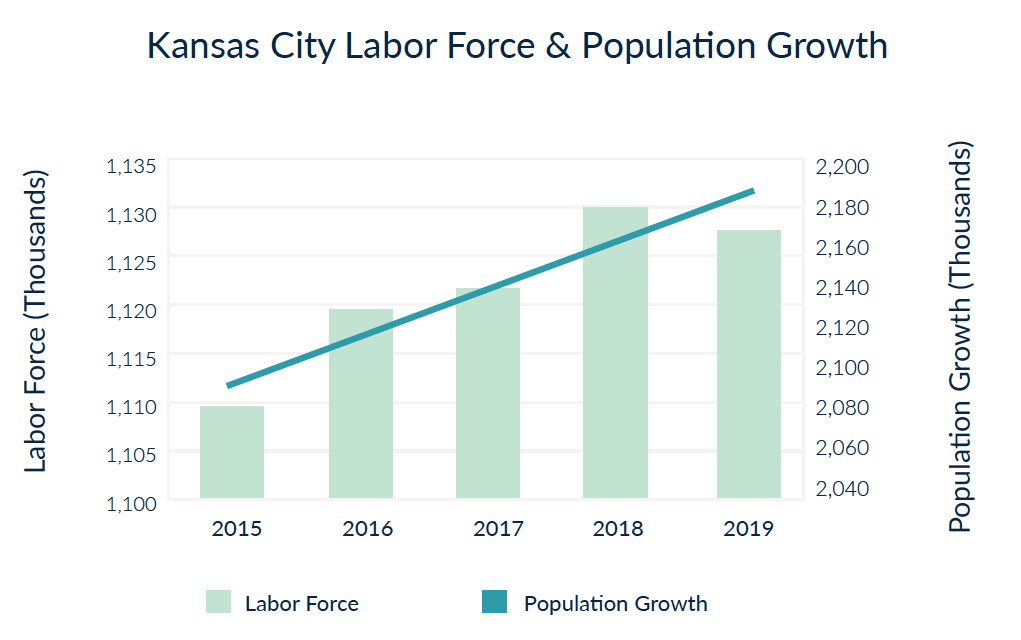 Biotech research also has a massive presence in Kansas City. The healthcare IT giant, Cerner Corporate, is rapidly expanding with already 900,000 sf of space in the market. After winning a $624MM contract, Cerner is expected to employ more than 16,000 people over the next ten years. Additionally, Children's Research Institute is expanding their research arm and will soon employ over 3,000 researchers.
Along with biotech research, telecom companies like Sprint Corp. and AT&T occupy over 2MSF of office space and are major employers of the area. Kansas City has historically been more dependent on large employers like these but recently the city has had a spike in small business creation, an indicator of positive market health and investor confidence.
Due to Kansas City being centrally located geographically, the industrial sector has room to grow. E-commerce has revolutionized warehousing and other retailers are under pressure to have Amazon-like shipping. The need to have warehouses in centralized areas like Kansas City is crucial to national distributors and supply chain operators.
The Best Cities Are 18-Hour Cities
As someone who wholeheartedly believes there will be a strong multi-decade migration trend towards lower cost areas of the country, I'm happy CrowdStreet's platform is focused on 18-hour cities.
For those of you who currently live in 24-hour cities, the ability to invest in 18-hour cities has never been easier. For those of you who are already living in 18-hour cities, I would try and buy as much of your piece of America as possible. Capital will flow to where there is the most potential for profit.
To invest in 18-hour cities, check out CrowdStreet, one of the leading real estate marketplaces today. It's free to sign up and explore. CrowdStreet is an official sponsor of Financial Samurai.
Readers, what do you think about investing in the cities I've mentioned in this report? I'd love to get some local color from folks living in Austin, Charleston, Kansas City, Columbus, Milwaukee, Nashville, Charlotte, and Raleigh / Durham. Is Orlando really that attractive? What other cities do you think are attractive for real estate investing?