When the S&P 500 initially corrected by 10% in 2020, I immediately thought to myself: thank goodness for bonds, cash, and real estate! I had bought a slightly larger home last year with stock proceeds and existing cash.
Bonds were looking fantastic as investors piled into safe havens. At one point, some bond ETFs looked like the famed parabolic internet stocks of 2000. Given real estate is considered a close cousin of bonds, real estate prices were surely rising as well.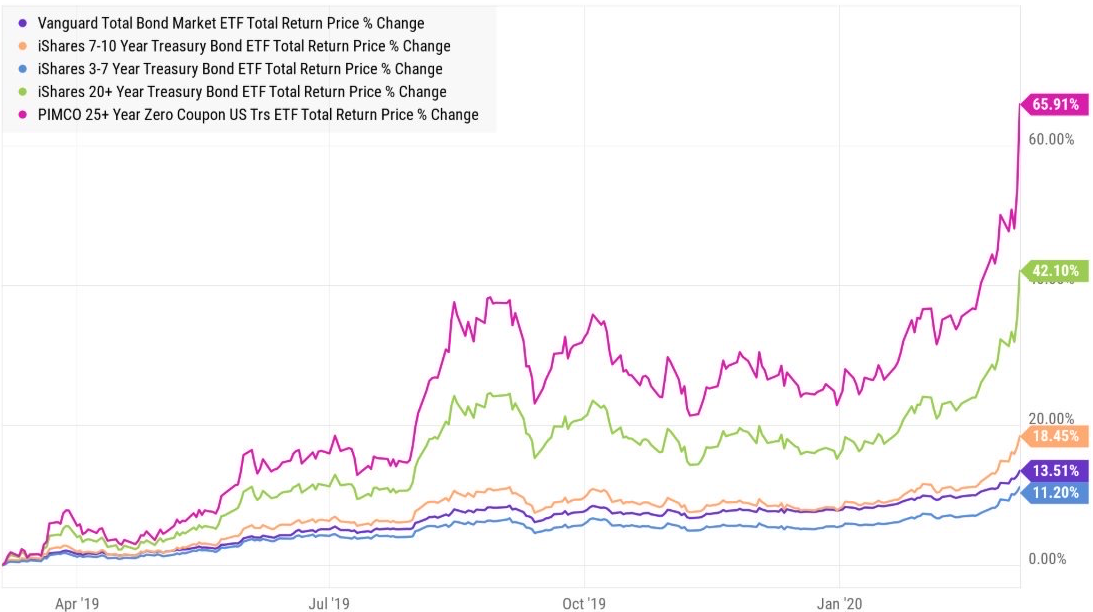 However, at some point, investors will stop buying real estate and even bonds out of fear that an economic collapse will take down even the most defensive of assets.
One of those points came on Thursday, March 12 when the S&P 500 declined by 10%, the Vanguard Real Estate ETF VNQ declined by ~10%, municipal bond funds declined by 4 – 6% and even Treasury bonds declined by 1 – 3%. March 12 was a day that wasn't supposed to happen, but it did.
Let's have a discussion on how low stocks have to go before they start negatively impacting real estate prices. We'll talk intuitively about the level of price declines and duration. I'll also highlight historical price comparisons between the two.
How Low Will Stocks Have To Go Before Investors Stop Buying Real Estate?
COVID-19 is the latest reminder of how quickly stocks can lose value. Sure, stocks are a 100% passive investment that have historically generated 8% – 10% returns a year. However, the downside to stocks being 100% passive is that you have no control. You are at the mercy of management's decisions and random exogenous variables.
A stock's rapid loss in value is one reason why I prefer real estate over stocks. Real estate is less volatile, provides shelter, and generates income. However, not all real estate is created equal.
Let's go through a thought exercise about real estate investing when the S&P 500 drops 10% – 15%, 15% – 20%, and greater than 20%.
Real Estate Prices When The S&P 500 Drops 10 – 15%
When the S&P 500 corrects by 10 – 15% money tends to surge into real estate. Unlike stocks, real estate prices change much more slowly. When the S&P 500 corrects by 10 – 15%, mortgage rates tend to fall, thereby making real estate more affordable. As real state becomes more affordable, demand for real estate goes up.
Real estate not only holds its value, but it will likely see an acceleration in price appreciation when the S&P 500 corrects by 10 – 15%. Again, look at the bond performance chart above and think about it as a proxy for real estate price performance, depending on what type of real estate you own.
My belief is that your primary residence will increase by 1-2 percentage points above its normal rate of appreciation when the S&P 500 corrects by about 10% – 15%.
For example, if your city's property market was expected to increase by 4% one year, during a 10% – 15% stock market correction, we could instead see prices increase by 5% – 6% as money rotates out of stocks and into real estate and other defensive assets.
As for bonds and cash, the purpose of investing in bonds and cash is not to make lots of money, it's to SAVE YOURSELF from losing a lot of money. An online cash savings account might only generate a 1.75% guaranteed interest rate, but it will save you from experiencing double-digit percentage paper losses.
Bonds are lovely in a 10% – 15% correction. Not only do they provide a greater yield than your average online savings account, but the value of the bonds also tend to go up as well.
Below is the chart of MUB, the iShares National Muni Bond ETF. MUB went up about 1.8% when the S&P 500 lost 12% that week.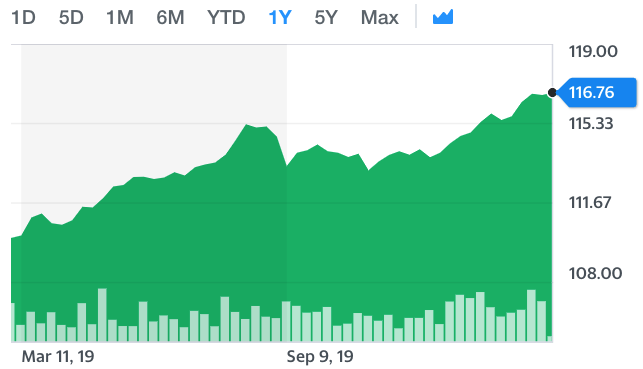 Real Estate Prices When The S&P 500 Drops By 15% – 20%
Once the S&P 500 is firmly between a correction (-10%) and a bear market (-20%), real estate investors begin to hesitate a little. The longer the S&P 500 is down between 15% – 20%, the more hesitation there will be.
Real estate should still strongly outperform the S&P 500. However, this outperformance starts losing steam when the S&P 500 edges toward -20%. Instead of getting five offers, a home seller might only get two or three offers. The demand for real estate is still strong due to increased affordability and the literal seeking of shelter.
Most Americans who own real estate have the majority of their net worth in their primary residence. As a result, during a stock market correction, most Americans find great comfort knowing their greatest asset is not only holding up in value, but it is also providing shelter.
Millions of Americans are likely refinancing their mortgages during a 15% – 20% stock market decline as mortgage rates collapse the hardest. With lower living expenses and a greater appreciation of real estate, demand for real estate continues.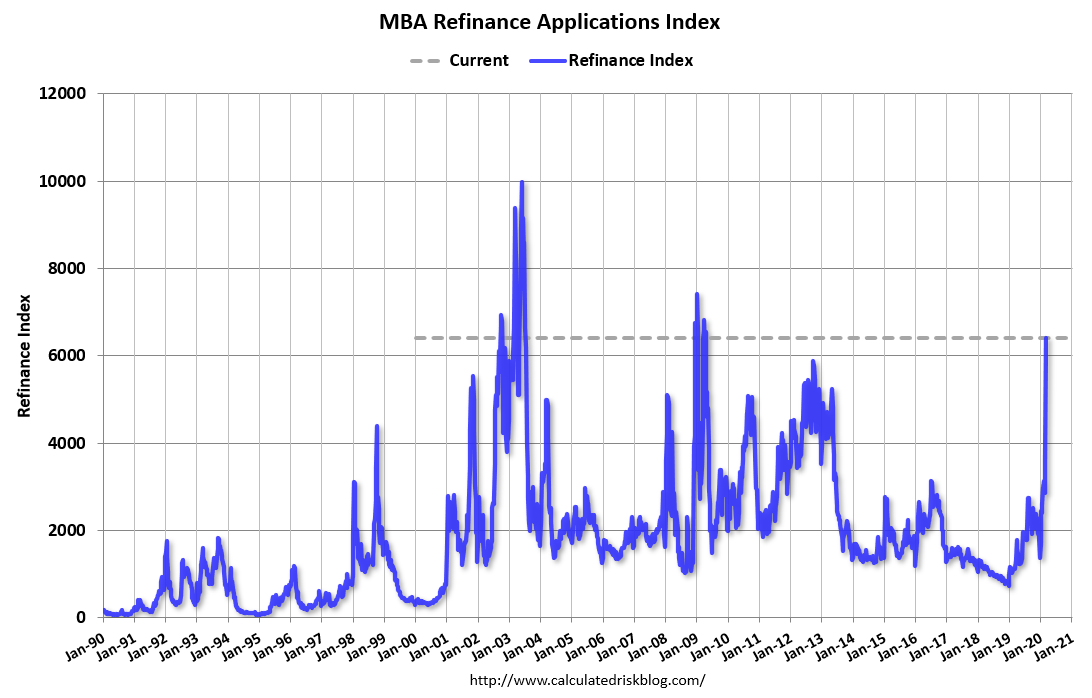 When the S&P 500 is down between 15% – 20% from its highs, I'm actively looking to buy equities. I'm also looking around for real estate deals more than usual. However, the real estate deals won't be there unless you look hard and give a lot of low-ball offers. A 15% – 20% decline is like receiving a body blow. It is not a knock out punch.
Real Estate Prices When The S&P 500 Drops Greater Than 20%
Once the S&P 500 drops greater than 20%, however, it's natural for real estate investors to start worrying about the possibility of a recession. A recession has happened ~70% of the time the S&P 500 declines by greater than 20%.
The longer the S&P 500 is down greater than 20%, the higher the probability of an impending recession as companies start laying employees off due to slower growth and lower profits.
If there is a 25% – 30% S&P 500 decline that lasts for longer than a couple months, I think real estate prices will finally stop appreciating. Volume will drop off and prices will just stall as investors enter a wait-and-see mode.
The 2008 – 2009 financial crisis was unusual in that a double-digit percentage decline in real estate prices due to overleverage caused the S&P 500 to decline and not the other way around. Today, thanks to much more stringent lending standards since the financial crisis, the credit quality of homeowners is much higher. Mortgage debt outstanding has declined while home equity has surged.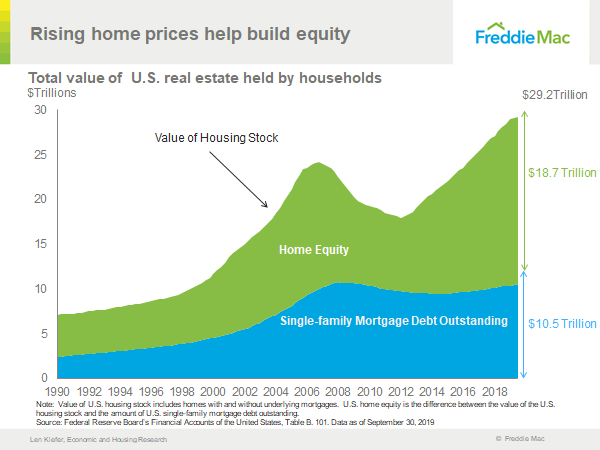 Not All Real Estate Is Created Equal
Many investors like real estate due to its less volatile nature. But not all real estate is created equal. If you want less volatility in your real estate investments, then you want to own the following real estate in this order:
Primary residence
Physical rental property
Private real estate syndication investments and private eREITs
Publicly-traded REITs and real estate ETFs
Your primary residence is your rock. The valuation is changing by the day, but you don't know what it is nor do you care as much as with other real estate investments. You're too busy enjoying your house and living your life. When it's time to sell your primary residence, that's when you'll care about price.
Your physical rental property portfolio is also a steady asset. What you care about above all else is whether your tenants will pay their rent on time. Your physical rental property portfolio is all about cash flow generation. The price of your rental properties is secondary.
Private real estate syndication investments and private eREITs are also less volatile because you don't get a daily valuation update. The most you'll get is likely a quarterly update on how the project is doing. In the case of a eREIT, you should get a quarterly dividend. The underlying value of your private real estate investments are changing every day as well, but you don't really care due to the long-term nature of many of these investments. We're talking 3 – 7-year holding periods on average.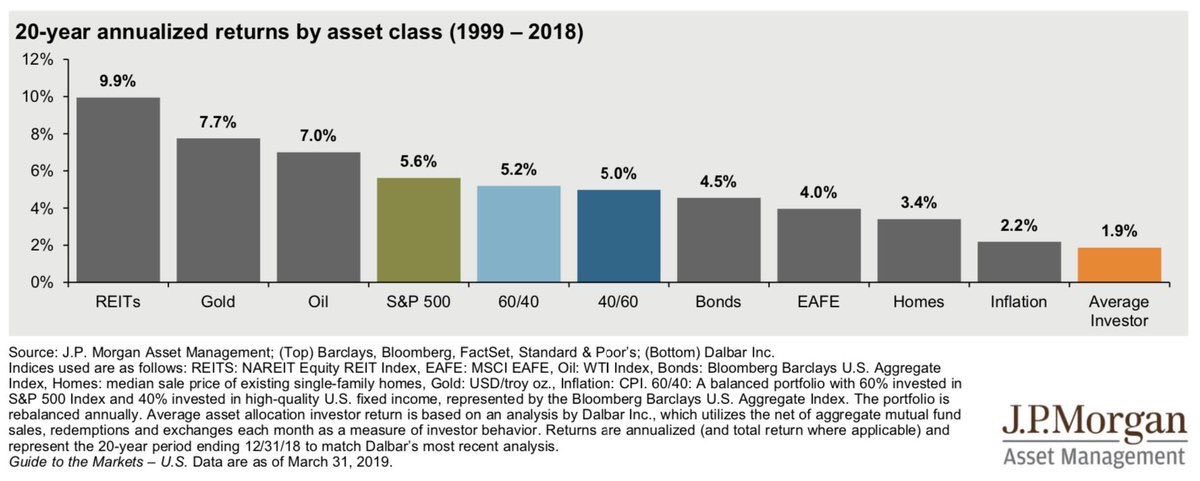 Now we come to publicly-traded REITs and ETFs like O and VNQ. They were the best performing asset class between 1999 – 2018. However, public-traded REITs and ETFs tend to act more like stocks than like real estate. If you are an investor seeking less volatility, investing more in a publicly-traded REIT or real estate ETF is not the way to go.
Take a look at the chart below by Fundrise, my favorite real estate crowdfunding platform for non-accredited investors. The chart compares Fundrise's platform portfolio to the Vanguard Total Stock Market ETF and to the Vanguard Real Estate ETF.
Look specifically at the year 2018 and then at 2015.
In 2018, when the S&P 500 closed down 5.13% the Vanguard Real Estate ETF VNQ closed down an even worse 6%. Investors treated publicly-traded REITs closer to stocks than to real estate. Whereas, the less liquid Fundrise platform portfolio was not at the mercy of market forces.
Now let's take a look at how VNQ performed when the S&P 500 lost 11.6% between Feb 21 – Feb 28, 2020. VNQ fell from $99.57 to $87.33, or a greater 12.3% decline.
Once again, VNQ did not provide the defense that some REIT investors had hoped. Perhaps this was a special case due to the coronavirus threatening the heart of office work versus remote work.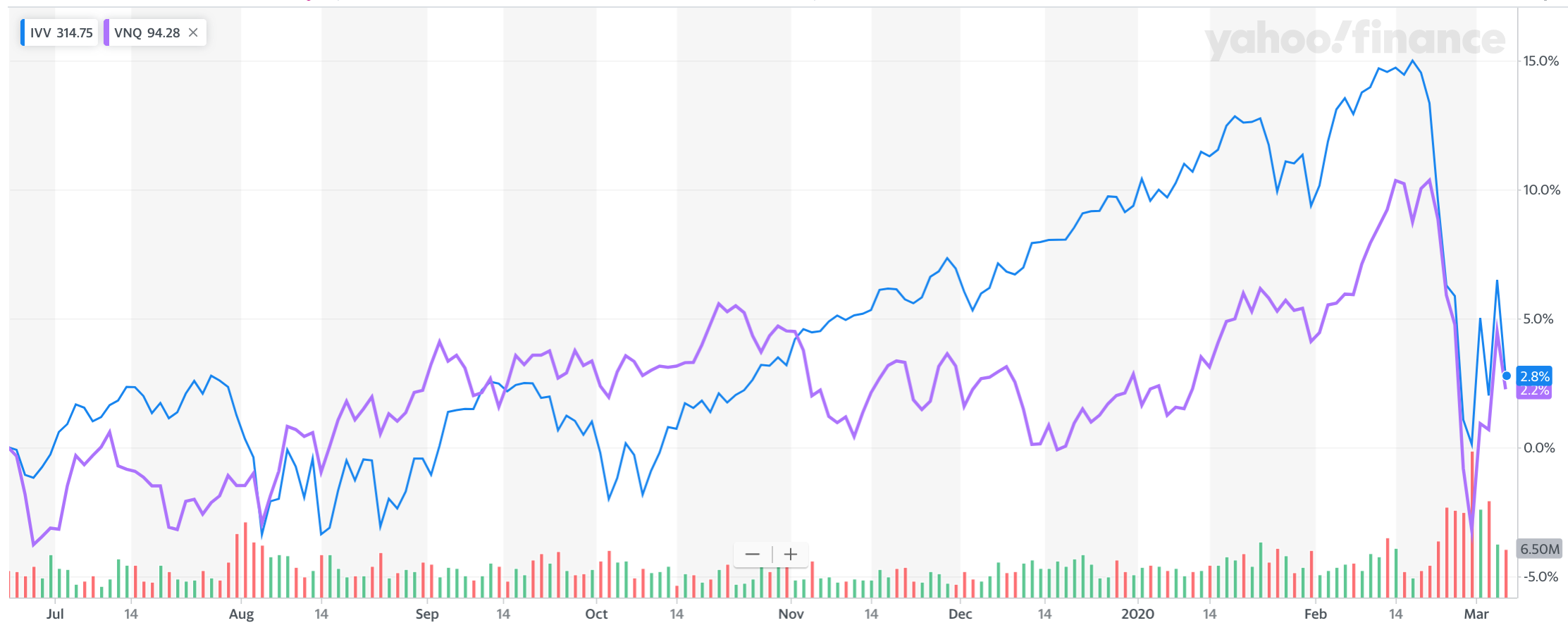 The S&P 500 Down 35% Is Probably The Breaking Point For Real Estate
I've already lived through three bear markets: 1) the 2000 – 2001 bear market that saw a 36.8% decline over 546 days, 2) the shorter 2002 bear market which saw a 32% decline over 200 days, 3) and the devastating 2007 – 2008 bear market that saw a 51.9% decline over 408 days.
Now I'm living through my fourth bear market, which has shown to be the fastest decline in history. Over the years, I've been badgered by so many random people who say that I'm too conservative with my investments. Why be bothered with what I do with my money? Hopefully, this bear market will provide some perspective. Remember, the first rule of financial independence is to never lose money.
My expectation is that given this bear market is due to a sudden paralysis in consumer demand and a supply-side shock, when the worst of the coronavirus is over, the recovery will be closer to a V-shape rather than a fat U-shape some time in the second half.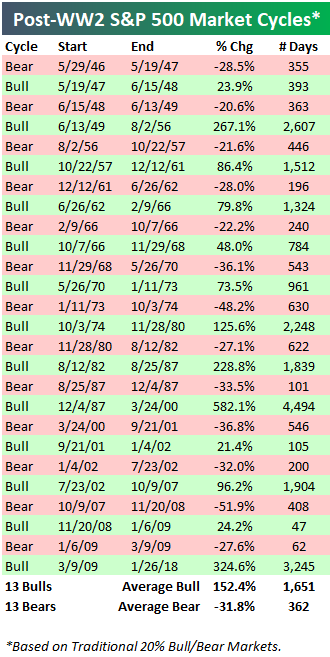 Beginning in 2000, I remember money rotating out of tech stocks and stocks in general and into real estate all the way until 2007. Real estate performed very well around the world, through two bear markets (-32% and -37%), until the end of 2006, when prices stopped appreciating.
Then around 2008, everything started collapsing, including bonds because Americans were over-leveraged. There was really nowhere to hide except for in cash and CDs.
Therefore, it seems like real estate, except for publicly-traded REITs and real estate ETFs, tends to do well or hold up so long as the S&P 500 doesn't decline by much more than 35%. There will certainly be a fade in real estate demand as stocks decline closer and closer to minus 30 – 35%. But once that -35% threshold is breached, the majority of people tend to hold onto cash and start freaking out.
Just think about your own situation. Between a 20% – 30% decline, you're probably thinking about buying both stocks and real estate. But when the S&P 500 is off by more than 30%, you'll probably wonder whether you should start buying stocks and hoarding cash instead of buying physical real estate given it's easier to buy stocks. You also know the average bear market has seen a ~32% decline, so if you buy stocks now, you're unlikely to see much more than 10% further downside.
When the S&P 500 is down 35% or more, you'll probably also start worrying about your job, which means you won't want to leverage up and buy property since each property is such a concentrated bet. Instead, you'll probably want to hold more cash, nibble at the stock market, and make smaller real estate investments, which can be done through real estate crowdfunding or publicly-traded REITs and real estate ETFs.
For more perspective on stocks versus real estate, below is a chart that shows the total returns between the S&P 500 and the Vanguard Real Estate ETF since 1996. We see that after about the 10 year mark, real estate began to outperform significantly. Therefore, during a downturn, the Vanguard real estate ETF may "mean-revert" by declining more than the S&P 500.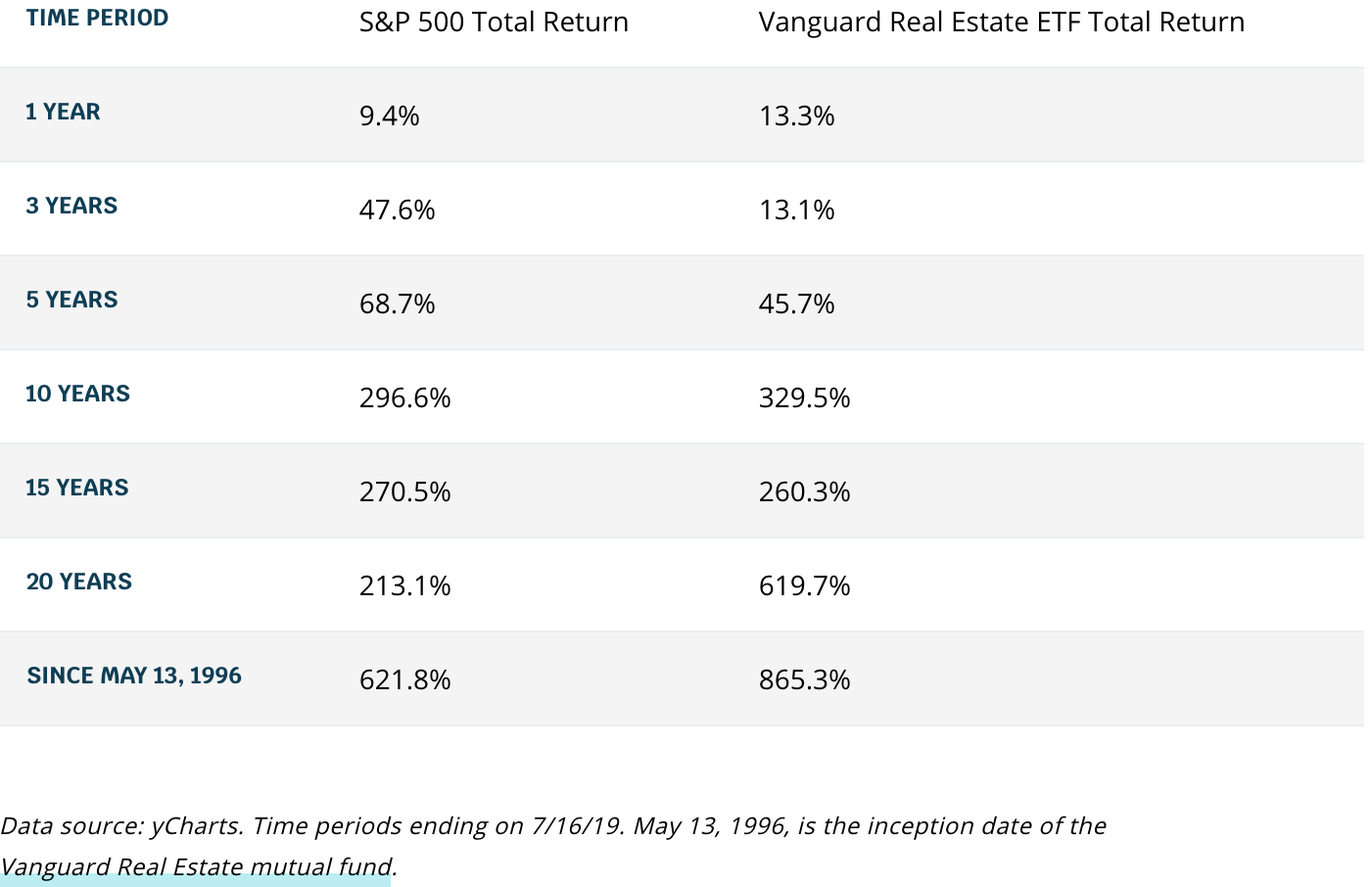 Below is a graphical representation that shows how well real estate has performed compared to stocks between 1997 – 2017, except for in 2008. In 2008, it was real estate's implosion that pushed equities to correct by 50%+ and not the other way around.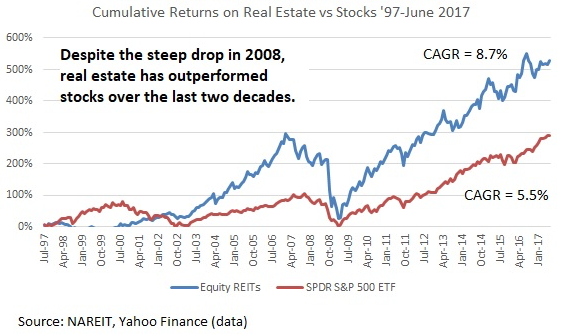 Real Estate Is A Core Investment
Public REITs and real estate ETFs are just as volatile as stocks when stocks melt down. Therefore, consider owning physical rental property, private eREITs or individual private real estate investments if you enjoy stability or at least the illusion of stability. In order to truly be long real estate, you have to own real estate beyond your primary residence.
For my rental properties, the rent checks kept coming in during the 2008-2009 financial crisis. Occupancy was full and rent prices were stable for two years before they were increased to keep up with inflation. I expect the same to happen again with my portfolio in 2020 and beyond, especially since I expect a quicker recovery.
When the stock market is imploding, real estate becomes an attractive asset class up to a certain point. That point is up to around a 35% decline in the S&P 500. After a 35% decline in the S&P 500, expect real estate prices of all types to start declining as potential buyers fear an upcoming recession.
If you do plan to take advantage of a decline in real estate prices, as I always try to do, please don't over-leverage yourself. Leverage is what destroys even the largest of fortunes. Be patient and be aggressive when looking for deals.
The easiest way to build real estate exposure without a lot of volatility or leverage is to buy an eREIT from Fundrise. You can invest as little as $500 in an eREIT with dozens of properties for diversity. It's free to sign up an explore.
Readers, how much do you think the S&P 500 would have to decline before demand for real estate starts to get scared off? Are you seeing any real estate weakness yet in your region with the S&P 500 in bear market territory? Here in SF, inventory is way down and I'm not seeing any good deals.