This article is for:
* Students who want to understand the true cost of their education and the sacrifices their parents make in order to make better choices with their careers.
* Parents who make too much to get financial aid, but not enough to feel like they can comfortably afford private school.
* Students and parents who feel bad for attending or sending their kids to public school or have a tinge of envy for those kids who do go to private school.
Congratulations for getting accepted to your grade school or college of choice! You've now got to make a decision on how to spend what will likely be your parent's money if you aren't getting a scholarship.
I've been a big proponent of attending public schools over private schools because I'm biased. I attended international private schools when I lived in Asia, attended a public high school, and went to a public college. I found very little difference in education between my private middle school and public high school. Upon graduating from William & Mary, I got a good enough job that helped me reach financial independence a little sooner than normal.
We all know there's no guarantee of doing anything special or being anything special just because you went to a private school. With the internet making education free, it's hard to justify paying record high tuition for a private education unless you're rich (make 10X the private school tuition per kid). Yet, many parents pay for religious reasons, fear of missing out, the desire for smaller class sizes and more attention for their kids, and the need for a more customized program if their child has special needs.
These reasons all make sense, and I respect them.
However, if you send your child to private school and pay full tuition, there is one guarantee. It is that you will spend a fortune. A lot of parents who advocate for private school got grants for their children to attend. That's wonderful. But I'm talking about the parents whose children don't get need based grants because they make a little too much, but not enough to feel wealthy. You know, those families making around $150,000 – $350,000 a year, depending on where they live and how many children they have.

Forgoing One Million Dollars To Attend Private School
Given I'm biased for a public education, let's remove my bias by simply doing the math on how much it will cost to send your child to private school from K-12 and four years of college.
Below is a graph I put together with the tuition costs of real private school tuitions in San Francisco. Further, families generally have to pay an additional $1,000 – $4,000 in donations, books, excursions and so forth. These tuition rates are very similar in other big cities such as New York City, Boston, Washington D.C., Los Angeles, and Seattle.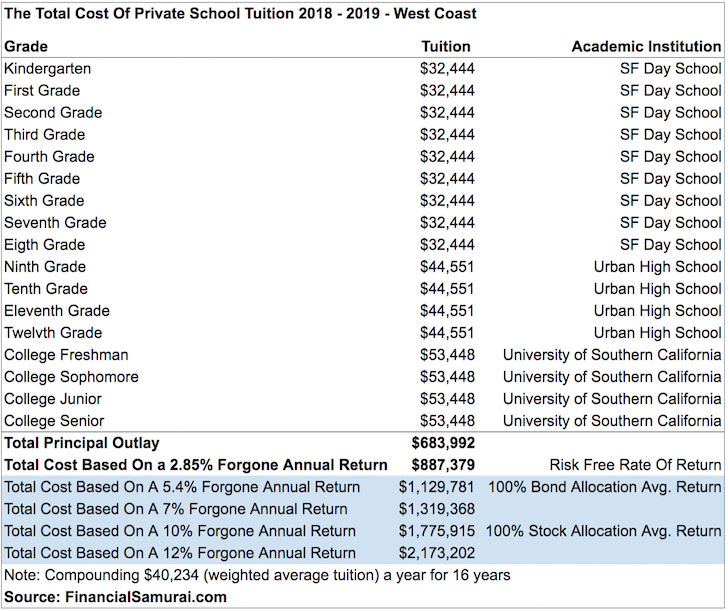 As you can see from the chart, if you plan to send your little one to private school in San Francisco starting from Kindergarten, you will eventually spend at least $683,992 in tuition through college graduation. But since you can get a guaranteed risk free rate of return of ~2.85%, your real cost is closer to $887,379 if you start with $40,234 (weighted average tuition), add $40,234 for 16 years and watch the returns compound.
But if you returned a conservative 5.4% a year, the average return of a 100% bond allocation since the 1920s, your opportunity cost rises to $1,129,781. Therefore, it is highly reasonable to assume a total cost of over $1,000,000 for a private school education, especially since I haven't even calculated the ever rising cost of tuition or the add-ons in my chart.
If you are like most investors, you'll likely have a majority weighting in stocks over bonds. With a 60/40 stock/bond allocation, you might see a compounded 7% annual return leading to a total cost of $1,319,368 in 16 years for your child's private school education.
Related: The Proper Asset Allocation Of Stocks And Bonds by Age
Now of course you must pay for public college tuition in lieu of private college tuition. That amount comes to $13,500 a year for a school like UC Berkeley, which still makes the total private school cost over $1,000,000.
Here's another example I put together for a parent who wants to send their kid to The Dalton School in NYC and then Yale in Connecticut. As you can see from the chart, the cost of tuition is even more than my West Coast example. With a 10% annual compounded return, we're talking over $2,000,000 in private tuition costs for your child!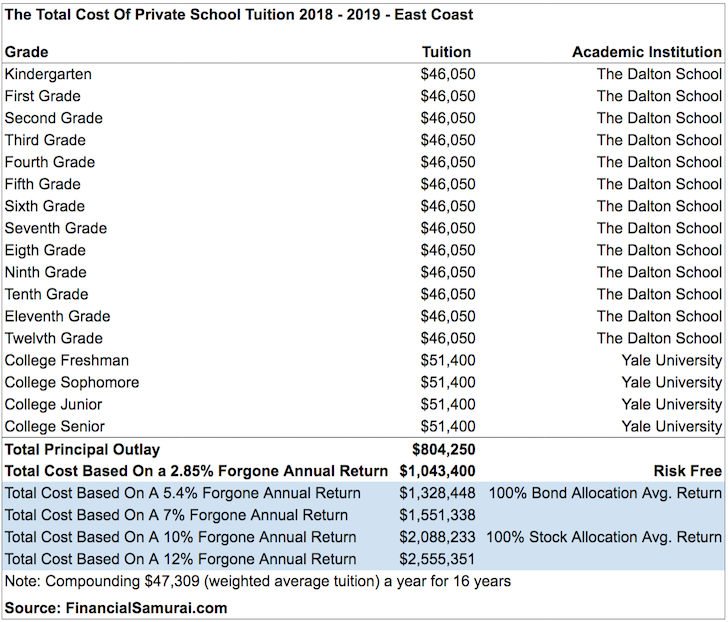 Tuition Costs For Other Private Grade Schools Around The Country
The Brearley School (K-12, NY, NY): $47,650
Horace Mann School (K-12, NY, NY): $48,600
Trinity School, (K-12, NY, NY): $49,750 (K-11) – $50,355 (12)
The Cathedral School For Boys (K-12, SF, CA): $31,200
Forsyth Country Day School (K-12, Winston-Salem, NC): $13,200 – $23,200
Punahou (K-12, Honolulu, HI): $24,780
Maret School (K-12, Washington DC): $32,775 – $37,720 + text books
Sidwell Friends (K-12, Washington DC): $39,360 + text books
The Roeper School (K-12, Bloomfield, MI): $19,800 – $24,200
The Bush School (K-12, Seattle, WA): $26,325 – $33,735
St. John's School (K-12, Houston, TX): $27,545
St. Mark's School (K-12, Dallas, TX): $29,496
St. Stephen's Episcopal School (K-12, Austin, TX): $25,990
Harvard-Westlake School (7-12, Los Angeles, CA): $40,400 (includes $2,000 new student fee)
Ransom Everglades School (6-12, Coconut Grove, FL): $35,900
Pine Crest School (K-12, Ft. Lauderdale, FL): $31,030
Philips Exeter Academy (9-12, Exeter, NH): $41,608 (day), $53,271 (boarding)
Imagine What You Could Do With $1,000,000
Instead of graduating with student debt, imagine if your parents said at the after party, "Congratulations for graduating college! You're free to pursue your dreams, live wherever you want, buy a house, and even start a family because here's a check for $1,000,000." You'd be set!
If you graduated at 22 years old, invested the entire $1,000,000, saved and invested $20,000 a year, and earned a 5.4% annual compounded return, you would end up with $3,192,000 by age 40. Finally, you will have achieved real millionaire status. Making more money gets easier the more money you have.
Being financially independent by 40 with minimal effort is pretty nice. But what's really wonderful is having the freedom to do whatever you want at the beginning of adulthood. Yes, there's a possibility that having $1,000,000 so young will make you a dead beat loser.
On the other hand, having a financial safety net could make you the biggest success ever because you can take huge risks. Look at Bill Gates and Mark Zuckerberg who could afford to dropout of college because their families were already rich. Their safety net was kicking back at their respective family's multi-million dollar vacation homes before going back to school.
The key to making sure your kid has his head on straight with regards to money is having regular conversations about all aspects of money. The more you can talk about various financial topics growing up, the less of a shock it will be when you hand over the $1,000,000 check. You can always spread the money out into multiple tranches based on various conditions that need to be met if you feel your son or daughter still needs time to mature.
At the age of 22, I personally would have used $200,000 for a 20% downpayment on a $1,000,000 property in NYC, invest $100,000 in alternative investments, $500,000 in stocks, and $100,000 in bonds. The $1,000,000 would probably be worth $4,000,000 today because the NYC property alone would be worth ~$2,500,000 and be fully paid off.
Now Imagine What Parents Can Do With An Extra $1,000,000
If you decide not to give your child $1,000,000 upon graduation, think what an extra $1,000,000 can do for your retirement timeline. You could literally retire 10 years earlier based on a $100,000 annual spend. And for some folks who live in an expensive coastal city and average closer to $200,000 a year in expenses, saving five years off work hell could be a godsend.
Saving time is truly the best thing you can do when you have a financial windfall since each year you live takes up a larger percentage of time you have left. Think about how much money you'd be willing to give up to rewind time or live a life of leisure.
I decided junior year in high school that I was going to attend a public university for $2,800 in tuition a year so my parents could retire earlier if they wished. I knew their rough salaries as federal government employees. Therefore, to attend private university just didn't feel right because I couldn't understand how they could afford $20,000 a year in tuition at the time or how I could easily pay them back if I graduated with a regular $30,000 a year job.
Given I've been unemployed since 2012, having an extra $1,000,000 wouldn't dramatically change my life. But it could help improve the lives of others. I'd use some of the money to treat my parents and in-laws to a luxurious round the world cruise. My father in-law always wants to update his old log cabin in the woods. And then there are several charities dealing with underprivileged youth I'd donate to. With what's left, I'd conservatively invest the rest to help pay for my son's education because even public universities can now cost an arm and a leg over four years.
If you're rich or have awesome merit based scholarships, then send your kids to private school all you want. But for the majority of people who don't have an endless amount to spend or who aren't as academically gifted, it's good to run the numbers like I have here.
Make sure you go to the school that best fits your child's needs. I personally think trying the public school route first to see if it works and then applying to private school if it doesn't is the best way to go. The only downside is that by the time you apply to one of those K-12 private schools, there might not be any spots left for you.
Loading ...
Refinance your student loans today. Check out Credible, a student loan marketplace that has qualified lenders competing for your business. Credible provides real rates for you to compare so you can lower your interest rate and save. Getting a quote is easy and free. Take advantage of our low interest rate environment today!
Related:
What If You Go To Harvard And End Up Doing The Same Thing As Everybody Else?
How To Stop Worrying About Your Child's Future In This Brutally Competitive World
Stay On Top Of Your Money: Sign up for Personal Capital, the web's #1 free wealth management tool to get a better handle on your finances. In addition to better money oversight, run your investments through their award-winning Investment Checkup tool to see exactly how much you are paying in fees. I was paying $1,700 a year in fees I had no idea I was paying. After you link all your accounts, use their Retirement Planning calculator that pulls your real data to give you as pure an estimation of your financial future as possible using Monte Carlo simulation algorithms.