PolicyGenius is a leading online life insurance company that helps you get the best term life policy that most appropriately suits your needs. They have the technology and know how to help you sort through the dozens of different carriers and thousands of different policies so you don't have to, for free. The alternative is to apply to each carrier one by one and waste a ton of time.
PolicyGenius focuses on term life insurance policies ranging from 5 years to 30 years and have coverage between $25,000 – $10,000,000. Additionally, they provide consumers with access to several other insurance types, including renters insurance, long-term disability and pet insurance.
They do all the legwork involved with making tough insurance decisions on behalf of their customers, and then help them with the application and purchasing process – explaining policies and the entire process in plain English so you know what you're getting.
They were founded in 2014 by Francois de Lame and his partner Jennifer Fitzgerald, ex-Mckinsey Consulting professional who went to Harvard Business School. I've met them both, and they are great people. They are based in New York City and have raised over $52 million in funding from leading institutions such as Norwest, AXA, MassMutual, and TransAmerica Ventures.

SURPRISING STATISTICS ABOUT LIFE INSURANCE
* Nearly 7 out of 10 employees (>90 million Americans) have life insurance benefits through an employer, of which 80% participate.
* 60% of all Americans own life insurance but less than half of middle market consumers (ages 25-64) have coverage.
* 30% of people in the U.S. (70 million people) say they need more life insurance.
* Over 50% of people say the loss of a primary wage earner would become a financial burden within one year and 47% said within six months, including 40% of >$100,000 income households.
* 65% of Americans don't buy life insurance because they think it's too expensive. But 80% assume it's more expensive than reality. Millennials overestimate the cost by 213% and Gen X by 119%.
* 3 major reasons workers own group life insurance policies include burial expenses (49%), lost income (41%) and mortgage payments (30%).
* Age and health are not the only inputs that can affect cost. Your driving record, credit history, activities (think adventure sports) and lifestyle can too.
* 38% of workers with a basic life insurance plan have a flat dollar amount benefit with a median amount of $20,000.
* 57% of workers have a fixed multiple of annual earnings with 1x salary being the most common multiple.
And in case you are wondering, Francois absolutely believes term life insurance is the way to go over whole life insurance due to excessive fees. I agree.
LIFE INSURANCE THE EASY WAY
Here's the gist of how the process works with PolicyGenius. Answer a few simple questions on PolicyGenius' website and instantly receive free, personalized and comprehensive life insurance quotes on your own time. It literally only takes a few minutes. Here's the homepage screenshot.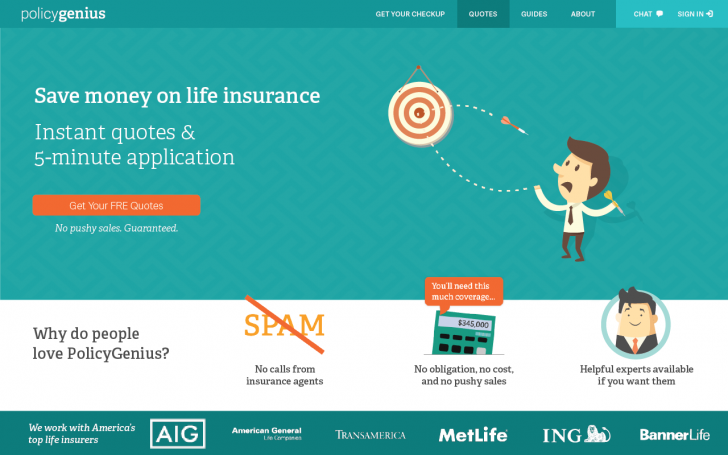 There is a built in algorithm that takes into account any health issues you may have in order to get you the most accurate quotes possible which means less time juggling quotes from various sites and answering lengthy surveys via phone. And you can rest assured that your information is confidential and won't be resold as you'll see in the company's strict security policy. PolicyGenius is designed to take the hard work out of finding both an affordable and comprehensive policy for your individual needs.
Since PolicyGenius is an independent insurance broker, they are focused on providing unbiased advice on more than two-dozen A-rated top life insurance companies that they have personally researched and vetted. It also means they'll never sell your information to a third party vendor, so you don't have to worry about a flurry of calls from brokers eager to make a sale.
What's great for consumers is any commissions and marketing fees are already baked into the cost of insurance. This means that whether you buy a particular policy through PolicyGenius or directly from the insurer, you'll always pay the same price. A lot of people don't realize that working with an insurance broker doesn't cost extra money.
PolicyGenius's customer service team – who is there to answer any questions you have over the phone or online – aren't commission based, so you'll never have to worry about them pushing one insurer over another. They're just interested in finding customers the right policy for their needs.
After you find a policy you like and submit your application, you'll need to schedule a convenient time for a medical technician to complete a free paramedical exam at your home or office. This is standard procedure when applying for any life insurance policy through any company or broker. I had one done when I took out a $1,000,000 term life policy years ago. He took my blood pressure, weighed me, and drew some blood – easy and fast.
Then you wait for the underwriting process to complete and the final rate for your policy to arrive. If your rate ends up changing due to a medical finding, PolicyGenius can help you make sure it's the best offer out there. Lastly, the final policy arrives for your review. You're under no obligation to purchase it if you changed your mind.
SAMPLE QUOTES FOR 30-YEAR POLICIES
After you input your basic information and answer a couple minutes of questions, PolicyGenius will highlight the best options for you to review and compare along with about 10-15 other quotes.
The top 3 options they selected for my search were a good fit, but it was nice to have an idea of what all the other companies were offering as well. This is the key value proposition because the prices are regulated. You don't know whether the quote you are getting directly from one insurer is any good without comparing the prices to others.
Within the quotes window you can also adjust your coverage and term, to see the variations in pricing, kind of like how you'd shift your dates and times when searching for a flight.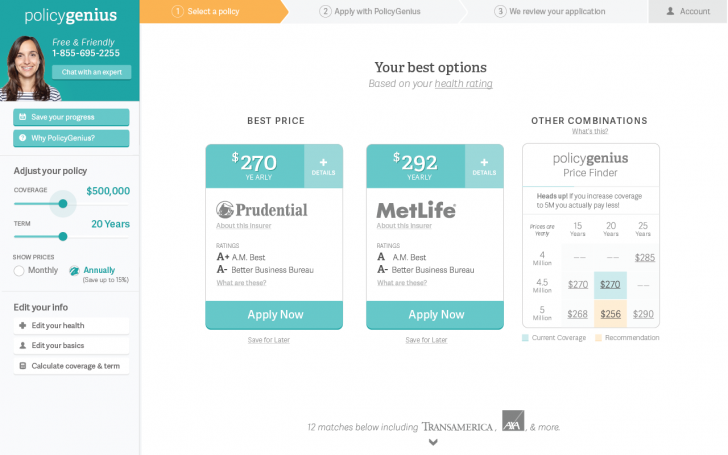 From there, you can select your preferred quote and PolicyGenius will help you through the rest of the application process, which takes between 1-3 months depending on your health and availability for the medical exam.
Here's a look at sample 30-year policy quotes for an average male living in San Francisco.
Male, 5'10" height, 165 weight
Age 35
Salary $150,000
No pre-existing health conditions
Clean driving record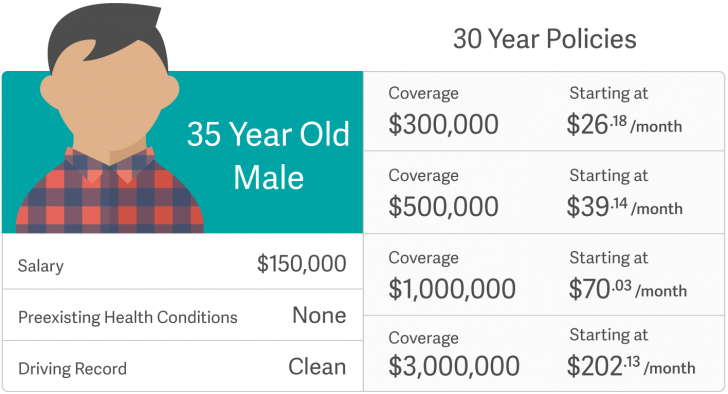 PolicyGenius keeps customers updated throughout the application process so you're never left wondering where you stand.
LIFE INSURANCE FOR PEACE OF MIND
Getting life insurance is imperative if you have dependents who rely on your income to survive e.g. stay at home spouse, kids, elderly parents. Many families with children smartly get a term policy that lasts at least through when all their children graduate from college. Life insurance is also important if you have debt that will be difficult to cover by someone else or your estate in case of your death.
Unlike the estate tax, where the government gets to take almost half of every dollar you leave after ~$5.4 million after you die, beneficiaries of life insurance don't have to pay a cent in taxes.
Getting life insurance is an act of kindness for those you love the most. It makes me happy knowing that if I die, several people will get an additional income boost beyond the assets I will already be leaving them. They can use the money to pay for any estate taxes, escape from the world until they feel mentally fit to return, or buy them time to figure out what to do with the assets.
If you're looking for a term life insurance policy because you have depends, bought a home, or simply want reassurance that others will be taken care of in the event of your death, I'd try PolicyGenius to get a free quote.
They make policy comparisons easy. The other one is to go to each insurance company one by one to fill out an application. Given life insurance policy prices are regulated, you can be assured that PolicyGenius will provide the best prices for you all in one place.
About the Author: Sam worked in investing banking for 13 years at GS and CS. He received his undergraduate degree in Economics from The College of William & Mary and got his MBA from UC Berkeley. In 2012, Sam was able to retire at the age of 34 largely due to his investments that now generate roughly $250,000 a year in passive income. He spends most of his time playing tennis and taking care of his family. Financial Samurai was started in 2009 and is one of the most trusted personal finance sites on the web with over 1.5 million pageviews a month.
Review Summary
Reviewed by
Review Date
Reviewed
My Current Rating