In a previous post, I estimated how real estate performs at various levels of a stock market decline. In my opinion, the sweet spot for real estate outperformance is somewhere between a 15% – 25% stock market decline.
During such a level of decline, mortgage rates tend to fall as investors buy Treasury bonds. As a result, real estate demand increases because affordability increases. Further, during a stock market correction, money tends to flow out of the stock market and into real estate and other more defensive asset classes like bonds.
Once the stock market declines by ~30 – 35%, real estate price appreciation tends to stall as potential buyers rethink their decision to buy any asset, including real estate. After a ~35% decline in the stock market, real estate prices are most likely falling as people fear losing their jobs.
We know that forced lockdowns have hurt the real estate brokerage business as potential buyers aren't able to visit open houses and transaction volume declines as inventory gets pulled out of the market. However, please don't confuse the real estate brokerage business with real estate prices.
When the real estate market eventually opens up again, sellers should negotiate for a commission discount while buyers should ask for a commission rebate. The coronavirus pandemic might finally be the catalyst to permanently lower commissions. However, I do think a great listing agent is incredibly valuable for getting too dollar.
In this article, I want to present to you an example of how one property performed during a global pandemic and a lockdown. It's an interesting example given the final sales price and timeline of the sale. I'll then share a couple more examples.
Real Estate Outperformance During A Coronavirus Pandemic
One of the best types of real estate to own is a single-family residence with panoramic ocean views in San Francisco. To find such properties, you need to look for them on the western side of San Francisco in the Sunset, Golden Gate Heights, Parkside, and Richmond neighborhoods.
These are less densely populated areas with lower median home prices given it takes longer to commute downtown. With the coronavirus giving millions of people a taste of work from home life, I believe these types of properties will outperform over the coming decades.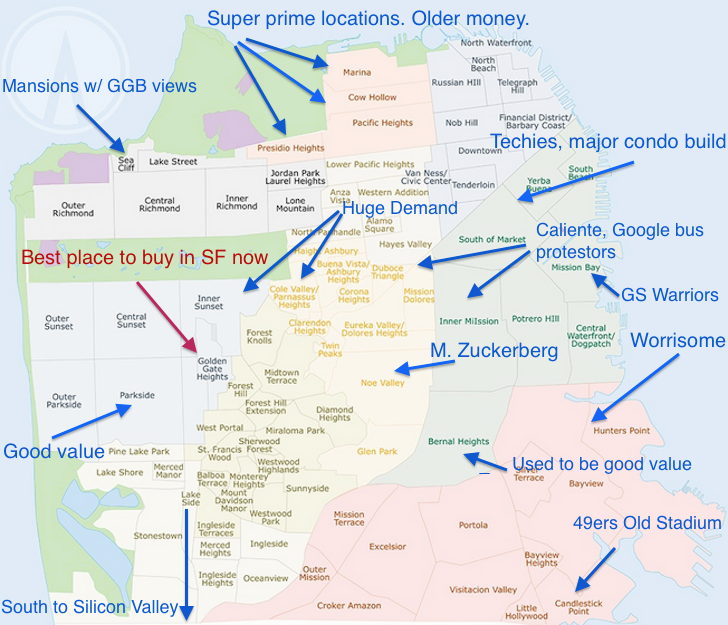 Because real estate is my favorite asset class to build wealth, I'm always on the lookout for single-family homes that are for sale in these neighborhoods. I peruse through the latest listing online each week and bookmark various properties I find intriguing.
On February 21, 2020, I stumbled across a quaint three bedroom, three bathroom, single-family home with ocean views. The kitchen had been redone about five years ago with basic finishes. The bathrooms were remodeled maybe 20-25 years ago also with basic finishes.
Overall, the house has about 2,200 square feet of living space and is situated on 3,000 square feet of land. The main downside to the house is that it is one block away from a very busy street. The house was essentially move-in ready, although one could easily spend $100,000 updating the house with new windows, new wiring, and new bathrooms.
Here are some pictures of this humble abode: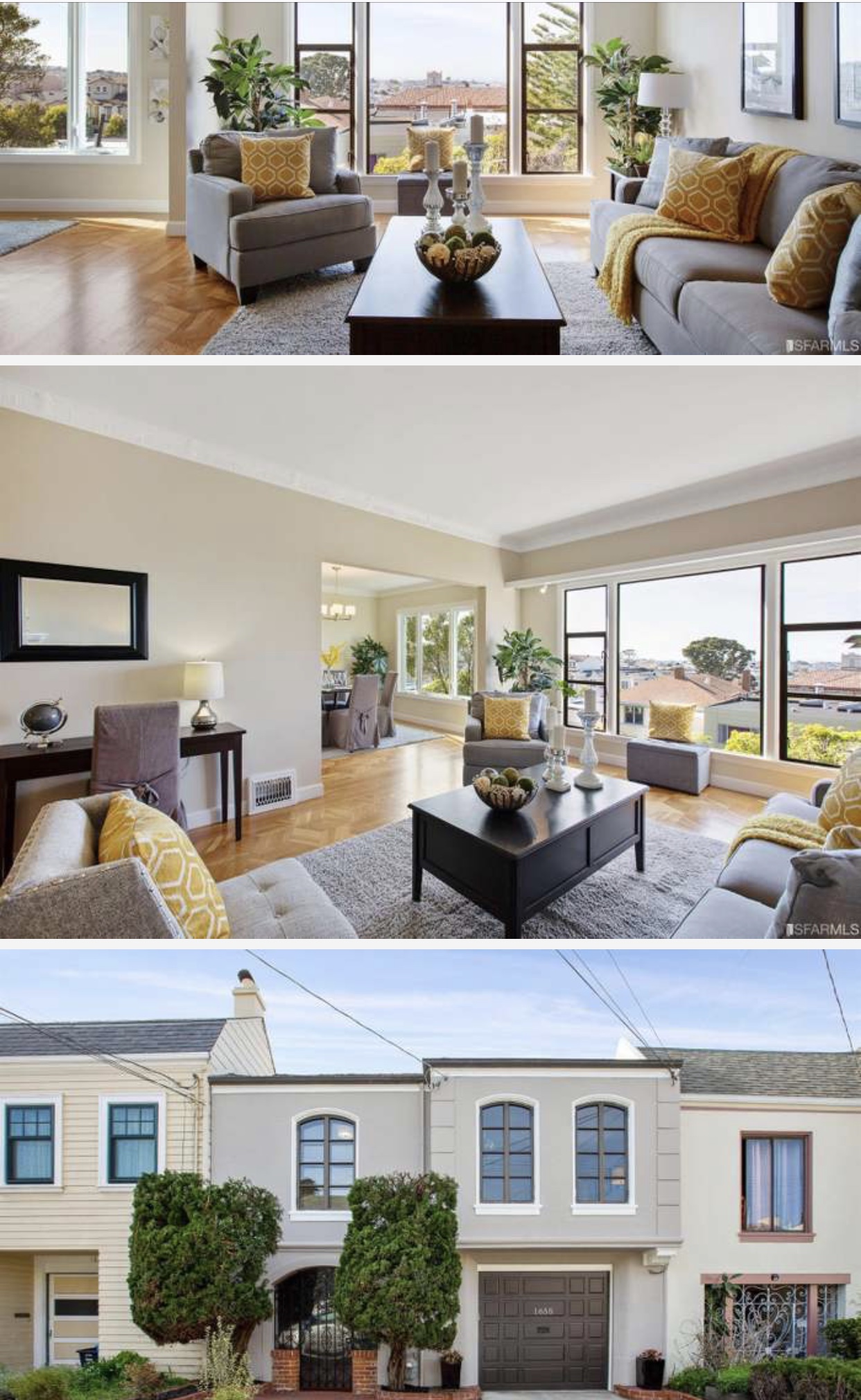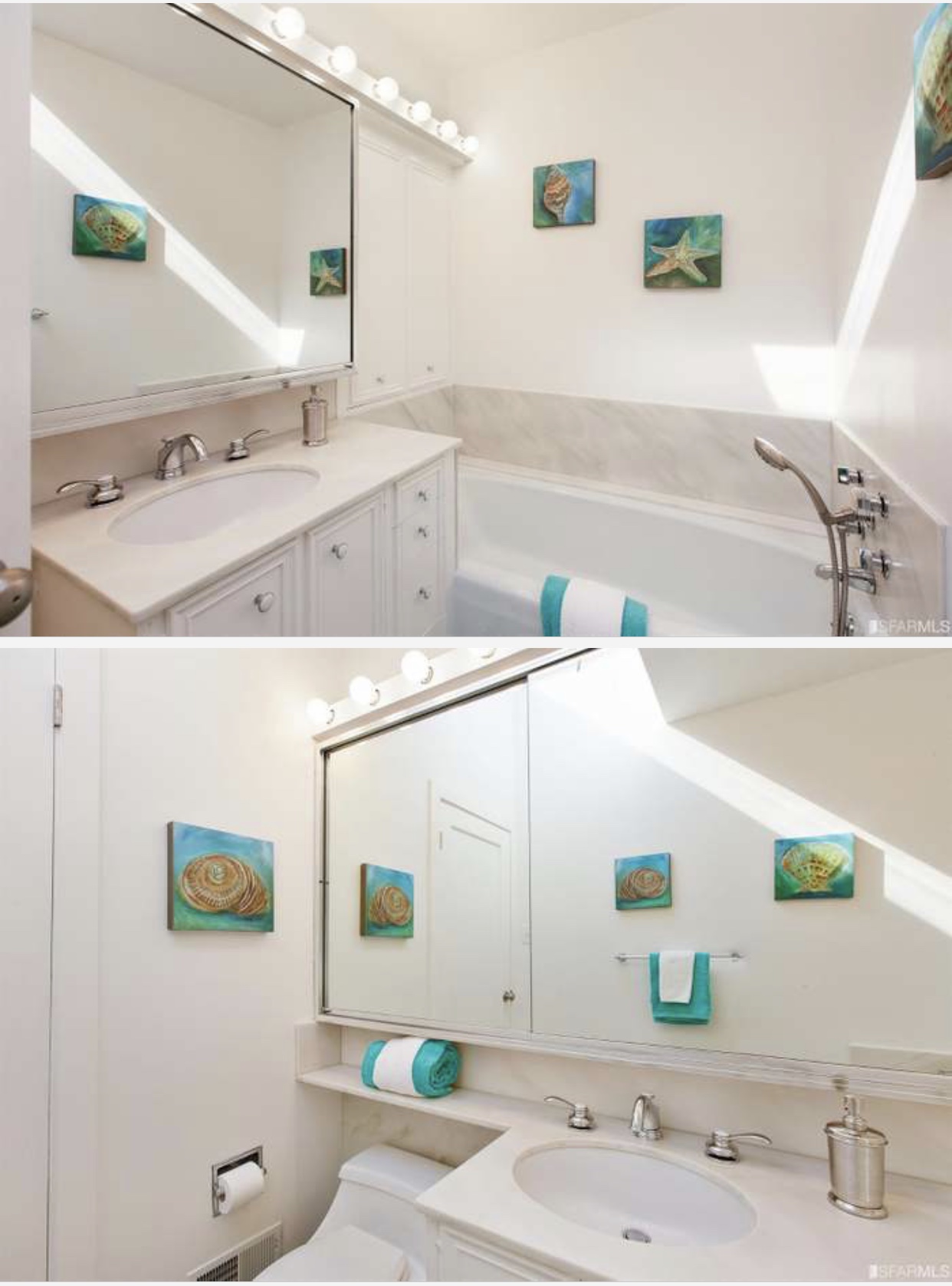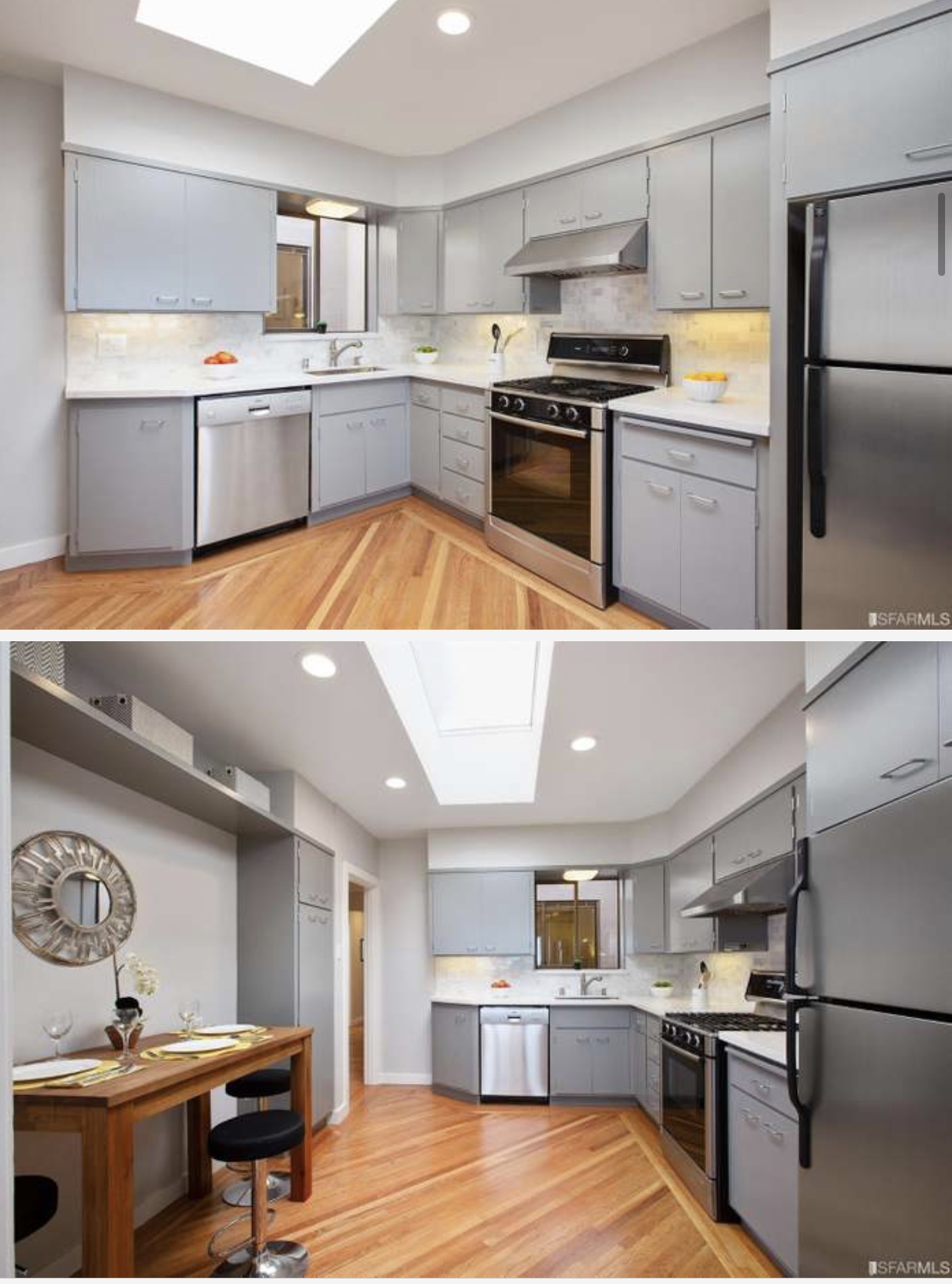 The listing price was $1.495 million which is below the median home price in San Francisco of roughly $1.6 million. In other words, demand is very high at this price point. With mortgage rates so low, many dual-income couples can afford this price point if they have a 20% down payment.
The sellers set an offer date of March 6, 2020, two weeks after listing. This is customary in San Francisco as it allows the agent to host two broker tours on Tuesday and at least two open houses on two weekends. Two weeks also creates a small enough window for motivated buyers to put in an offer.
By March 6, the S&P 500 had already begun its downward descent. We had already all heard about the coronavirus when this house first came on the market on February 21, 2020.
The Final Sales Price
Guess what the final winning offer was?
How about $1.65 million for a reasonable 10% over asking during a coronavirus pandemic? Nope.
How about $1.8 million or 20% over asking as the S&P 500 and the Dow were crashing by 30%? Wrong again.
OK, surely $1.95 million, or a whopping $455,000 over asking was the winning price as the coronavirus shut down the Bay Area economy with shelter-in-place. Man, you are bad at guessing!
The property closed on March 25, 2020 for $2,088,000 or an incredible $539,000 over asking.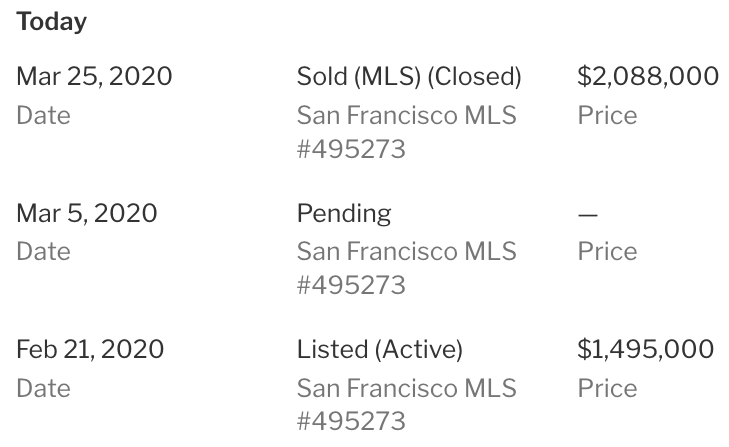 Besides the final sales price being 39% higher than the list price, the final sales price was also 7.5% higher than Redfin's estimate of $1,946,632. Out of all the online real estate companies, I think Redfin has the most accurate estimates.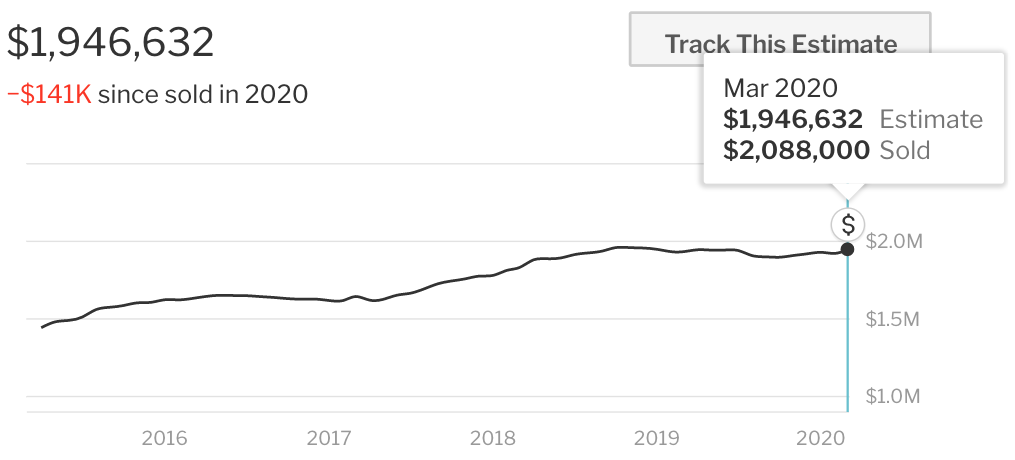 Another interesting point is the closing date. If the final offer was accepted on March 8, due to multiple offers and counteroffers, then the winning buyer closed on the property in 17 days on March 25. Therefore, the buyer likely paid all-cash for the property.
Finally, what's also worth noting is that the buyer could have backed out of the property at any time before the closing, but didn't. This buyer held firm despite the S&P 500 closing down ~30% from its highs on March 23 before rebounding.
The buyer either had his downpayment safely in cash or Treasury bonds, had lots of surplus money, didn't care about a stock market crash, was glad to move money into real estate, or a combination of all four.
If you are looking to buy real estate, please follow my recommendations on how to invest your downpayment as the time nears.
The Strength Of Prime Real Estate
One example does not provide irrefutable evidence that real estate performs the best during a 15% – 25% stock market decline. Nor does this example prove that down 30% – 35% in the stock market means that real estate prices stall out. After all, the strength of real estate prices is often property and location-specific.
However, this example does show how strongly real estate can outperform in a violent bear market caused by a frightening pandemic. It is clear that properties in this neighborhood were significantly outperforming the S&P 500 while it was crashing. If the property's value tracked 1-for-1 with the S&P 500's decline, it would have sold for $1,365,000 instead of for $2,088,000.
If the S&P 500 was flat during the time of sale, I would have guessed the property would have gotten at most $1,900,000, or $405,000 over asking. I certainly would have not guessed over $2,000,000. Therefore, it is possible the violent selloff in the stock market pushed the value of this house even higher.
If you plan to buy real estate, here are some key takeaways from this property sale example:
Look for property that is priced around the median home price for your city. A property priced close to the median or lower helps ensure the highest amount of demand, no matter what market.
Single-family properties tend to perform stronger than rental properties since single-family properties usually don't rely on rental income.
Find a property with a unique attribute, like a large lot for expansion, ocean views, or designed by a well-known architect.
Proper marketing is very important to get the maximum price. Although selling fees are still outrageous, great marketing really does matter for getting top dollar.
Neighborhoods with lower density may become more attractive given neighborhoods with higher density (apartments/high-rises) seem to have experienced a higher number of coronavirus cases.
Don't just look at the most popular neighborhoods with the closest commute. Due to the rise of ridesharing and telecommuting, widen your search for better value.
Although the world is now filled with uncertainty, there is one certainty real estate will always provide: shelter. And when you're forced to shelter-in-place, your home becomes increasingly valuable!
Other Strong Property Sales
Here are some other recent alerts I received that also show strength in the real estate market in the SF Bay Area during the height of the pandemonium.
Below is a lovely Oakland single family home with five bedrooms, three baths, 3,130 sqft that was asking $2,595,000 on March 12, 2020 and sold for $2,810,000 on March 27, 2020. It was very nicely renovated in 2016.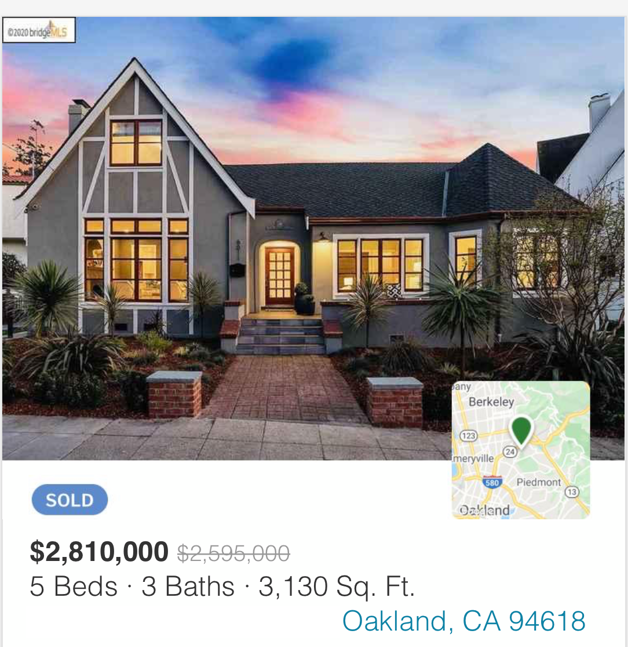 Below is a San Francisco single family home with five bedrooms, six bathrooms, and only 4,645 sqft that sold for a whopping $9,500,000 on March 27, 2020. Although the final sales price wasn't over its $9,500,000 asking price, the sales price is about $460,000 over Redfin's estimate price. I bet the new owner is probably going to put in more than $1 million for renovation.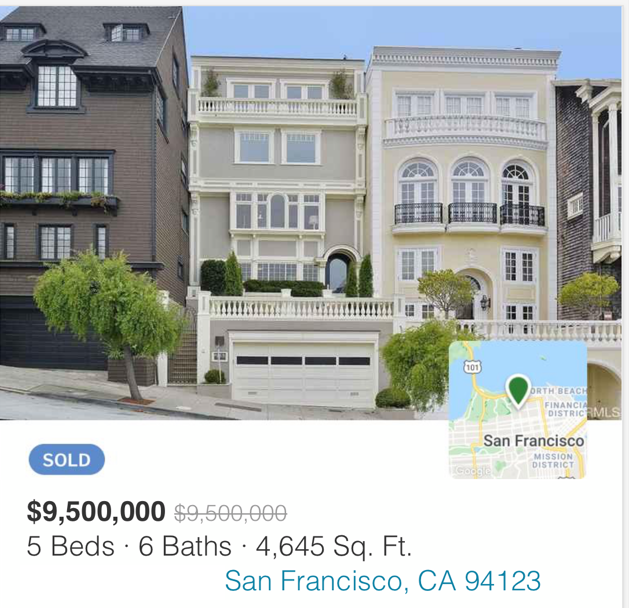 Here's another example of a single family home in Golden Gate Heights that sold for 10% over asking. It was listed on Feb 28, 2020 and closed on April 14, 2020, well into the pandemic. It is completely renovated home without a view. But it is very well done.
If you're looking to buy a single family home, hopefully you can find some deals in this market. Unfortunately, I'm not seeing many as sellers pull their listings, causing an even greater shortage of inventory.
Transactions will likely grind to a halt in 2Q2020 due to shelter-in-place. So long as the S&P 500 doesn't dip too far below 2,300, I think many real estate markets will outperform or just stay frozen until the economy opens up.
If you're looking to invest in real estate, take a look at Fundrise, one of my favorite real estate marketplaces today. You can diversify into real estate for as little as $500 into one of their eREITs, instead of leveraging up with debt to buy a single property. Although past performance does not equal future performance, Fundrise has shown relative stability during the previous two flat to down markets in 2015 and 2018.
Readers, are you seeing some strong sales in your neighborhood during these volatile times? If you are a buyer, are you seeing any deals? Why do you think the media does not differentiate between the real estate brokerage business and real estate prices in their headlines and articles?